Building a wedding registry should be a fun activity for any engaged couple, but for some, it's a drag. Having to go to a department store and set one up can be a hassle, and considering the traditional wedding registries leave very little room to ask for honeymoon-related items or even cash
But these online wedding registries in Australia offer the perfect solutions to all your wedding-registry woes. Want to ask for physical, experience and cash gifts? There's a platform for that. Looking to find a site that offers tons of unique home goods to help design your new abode. There's a platform for that too.
Best of all, these registries can be accessed online, which means your guests don't need to go running from store to store. They can order the perfect gift from the comfort of their own home.
Ready to start building your perfect registry? Here are the top five online wedding registries in Australia.
The best Australian honeymoon registry 🏆
We found Hitchd to offer:
1. The most beautiful design
2. Easiest to use
3. Most flexible way for guests to contribute.
View some sample registries and see for yourself: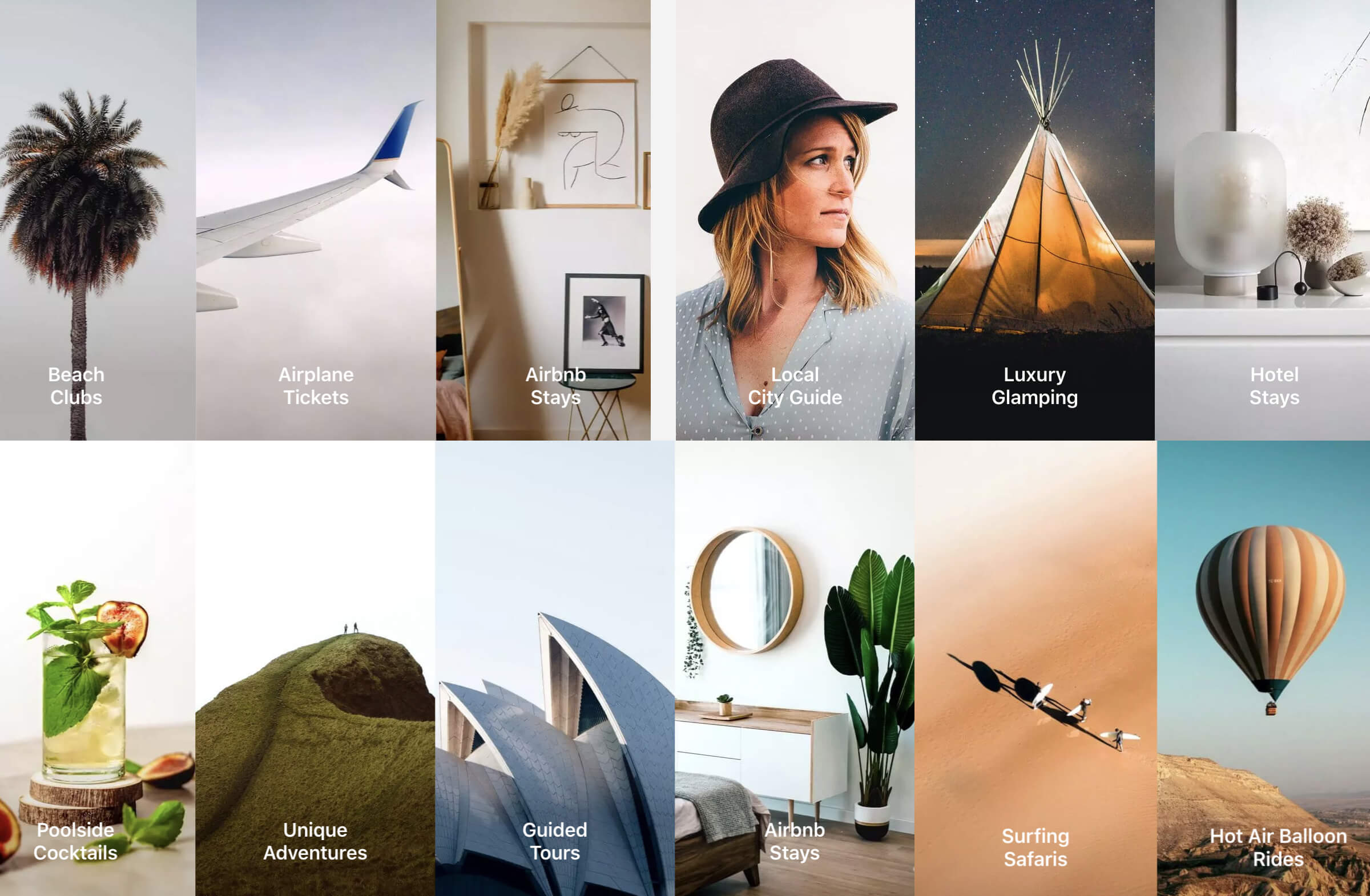 Get started with the #1 honeymoon registry and get your adventure funded by guests.
Start your registry today
For all your online wedding registry needs in Australia, no other company quite fits the bill like Hitchd. Our platform allows for endless customisation options and makes it easy for couples to access their money when they need it most.
Hitchd offers:
Gift options for physical, experience and cash funds. You handle all the writing, so you can describe each gift and what it means to you (but don't worry, we have gift sample text to get you started). You can ask for a mix of all three gifts and even give your cash fund a purpose, such as a down payment or home renovation.
Millions of stunning photos and plenty of fonts and layouts to help create a one-of-kind registry that captures your unique wedding. Using our honeymoon registry wording generator, you can build your registry quickly and add your own personal touches such as links to hotels or spas so guests can get a feel for what your experience will be like.
Gift tracking so you never need to remember which guest sent you which present. Our platform offers physical and digital thank you cards so you can show your gratitude right away.
All types of payment options from Credit cards, PayPal, Venmo, Cash App, and even Bitcoin. You choose as many as you like so guests will feel more comfortable giving however they wish.
For just a one-time fee, you get access to all these features and so much more. Check out more on how to build a Hitchd registry here and these data-driven tips for increasing your guest contributions.
Fund memories, not things.
The modern registry where guests fund your dream honeymoon. It's simple and beautiful.
Start your registry
As you're thinking about which Australian online wedding registry to use, you might be worried about one thing: Will all of our relatives be okay with not buying a physical gift and just sending the money for us to do it on our own? After all, buying a wedding present can be a meaningful act for a loving aunt or family friend. It's their way of helping you two set up your new home, and from then on, you'll always think of your loved one when you take out that baking set or use those fluffy towels.
The Gift Aisle understands this thought. Its platform allows couples to choose how they would like to receive each gift, from online payments to guest purchases. If your registry includes just a few home goods, then you can provide a link and ask guests to buy that item themselves. The site also offers other great features such as honeymoon gifts (funds can be accessed twice before your wedding), great themes and photos and an easy one-time payment of $149. That means no individual transaction fees for guests, with the exception of credit card fees if guests chose to pay by credit card.
The platform also offers ways for you to interact with your guests. You can upload photos and create a slideshow of your relationship, and you can ask guests to share their favorite stories about you and your partner or request a song to be played at the wedding. This is a fun way to get guests as excited about your wedding as you are.
Maybe your registry ideas are a bit scattered. You want to ask for mainly homewares, but the items you want can't be found in just one store. Then again, there are a few honeymoon-related items that you'd like to ask for on your registry. With Easy Registry, you have the power to customise your registry to include products from any store. You can also add honeymoon activities such as city tours as well as wishing wells, which act like a cash fund.
Like the Hint and Hitchd, guests will not buy you the gift directly. They'll simply give you the money so you can make the transaction yourself. Also like Hitchd, Easy Registry uses Stripe to help process credit card and other transactions, so you have the option to receive gift money as it comes in (optimal for honeymoon-related gifts) or after your wedding.
Easy Registry does offer free accounts, but with its premium services, you can access a number of different features, such as PayPal payment options, email notifications of gift purchases and even cover photos.
If you register at any old department store, then you're likely to find the exact same home goods everywhere you go — KitchenAid mixers, white plates, silverware. Sure, it's all the basics for setting up a house, but your homes should be an expression of your own unique style, not a copy of everyone else's homes. And instead of supporting overseas companies, why not support Australian artists and designers through your home purchases?
That's where the Wedding Nest truly shines. This unique Australian wedding registry offers many of the same home basics as any department store, but its stock draws from up and coming Australian designers and artists who want to gain wider exposure. You can also find large furniture pieces of a high quality, and you can add wishing wells and honeymoon funds to your registry.
The site also focuses heavily on affordable artwork, so if you value decorating your walls with stylish pieces that reflect your taste and interest, then you're sure to find gorgeous options that will make your rooms stand out. The Wedding Nest also sources one-of-a-kind and vintage items, so if there's something you really love, you can work with the site to get exactly what you want.
The Wedding Nest charges nothing to set up a registry, and guests pay an $11.95 fee for shipping, handling and administration with each transaction (including honeymoon and wedding well gifts), plus an additional fee if the item is especially large or shipped outside the Sydney metro area.
The key to a great online wedding registry in Australia lies in its flexibility. When you have a platform that allows you to add any type of gift from homewares to honeymoon activities, then you have the freedom to ask for exactly what you want on your registry.
The Hint makes adding unique gifts that you won't find at a traditional department store a breeze. All gifts can even be divided into smaller gift amounts so that more than one guest can contribute to an expensive gift, kind of like crowdsourcing.
Some couples like to create hybrid registries on the Hint, a combination of home goods and honeymoon activities, but unlike a traditional registry, the guest will pay for the gift but not order it and send it. The money is sent to you so that you can do the shopping yourself. You can book that amazing honeymoon cruise or order that stand mixer from your preferred retailer.
The major thing to note about the Hint is that the money will be made available to you nine days after your wedding. That gives you time to go on your honeymoon and return ready to shop for those homewares you wanted. Hint will keep track of who gave you which gift and will help you write meaningful thank-you notes when you're ready.
If you asked for a lot of honeymoon activities, then this can be a concern. Keep it in mind as you plan your wedding and honeymoon.
Looking for the #1 way to fund your honeymoon?
Hitchd is a new type of honeymoon registry that helps fund your adventure of a lifetime. Think of us as your very own wishing well, Kickstarter, and travel planner, all rolled into one beautiful experience.
Fund memories, not things.
The modern registry where guests fund your dream honeymoon. It's simple and beautiful.
Start your registry