Bonjour to all French couples embarking on the exciting journey of planning your wedding! Along with all the beautiful details of the day itself, it's crucial to think ahead about the perfect honeymoon. Selecting the right honeymoon registry can help turn your dream honeymoon into reality.
In this comprehensive guide, we'll explore the top 4 honeymoon registries in France for 2023.
Our top choice, Hitchd, shines for its immersive, experience-focused approach and user-friendly design. In close competition are Zankyou with its versatility, Blueprint Registry providing reliable service, and Honeymoon Wishes emphasising experiences.
Keep reading to discover the unique features, pros, and cons of each platform. This guide aims to help you make an informed decision that caters to your unique needs and ensures your honeymoon is every bit as enchanting as it should be.
Why Consider Hitchd for Your Honeymoon Registry?
Hitchd is a game changer in the world of honeymoon registries. It's a platform designed with couples' needs and desires at its core, aiming to make the process of financing a honeymoon as seamless and enjoyable as the journey itself. Unlike traditional registries, Hitchd allows couples to break down their honeymoon into specific experiences and expenses, providing a fun, interactive way for guests to feel personally connected to their contributions.
Whether you're dreaming of a sunrise hot air balloon ride in Cappadocia, a scuba diving adventure in the Great Barrier Reef, or a romantic dinner under the stars in an exclusive restaurant, Hitchd enables you to create a registry that truly reflects your unique dream honeymoon. But don't just take our word for it, let's hear from some of the French couples who have used Hitchd to make their honeymoon dreams a reality.
Testimonials
One feature that couples frequently praise is Hitchd's ease of use. The site's intuitive design makes setting up a registry a breeze. Plus, Hitchd offers flexibility to tailor your registry to your exact needs, whether you want to include flights, accommodation, experiences, or even contributions towards a house deposit.
Margot and Guillaume, honeymooned in Bali
"Planning our dream honeymoon in Bali was made so much easier with Hitchd. The platform was incredibly user-friendly, and we loved the flexibility and personalization it offered. Our guests really appreciated being able to contribute to specific experiences. The result? An unforgettable honeymoon, thanks to our loved ones' generosity and Hitchd's superb platform."
Camille and Hugo, honeymooned in Japan
"We had always dreamt of a honeymoon in Japan, but we were worried about how to fund it. Hitchd was the answer! The site was simple to navigate, and the customer service was top-notch. We could clearly visualize our honeymoon plan, and so could our guests. Our dream became a reality, all thanks to Hitchd!"
Emilie and Baptiste, honeymooned in New Zealand
"We knew our honeymoon destination had to be New Zealand, but we weren't sure how to go about organizing it. That's when we discovered Hitchd. The platform allowed us to break down our honeymoon into tangible experiences, making it easier for our guests to contribute. We were amazed by how much we were able to raise! We're forever grateful to Hitchd for making our dream honeymoon possible."
Amélie and Lucas, honeymooned in Costa Rica
"We wanted our honeymoon to be an adventure, and Costa Rica seemed like the perfect place. Hitchd allowed us to create an experience-focused registry, which our guests loved. The platform was easy to use, and the service we received was impeccable. Our Costa Rican adventure wouldn't have been possible without Hitchd!"
Charlotte and Théo, honeymooned in Greece
"Hitchd was instrumental in planning our Greek honeymoon. The platform is so intuitive, and it gave us the flexibility we needed. Our guests could contribute to specific parts of our trip, which made it feel very personal. Our Greek honeymoon was magical, and we have Hitchd to thank for that."
Top 4 Honeymoon Registries in France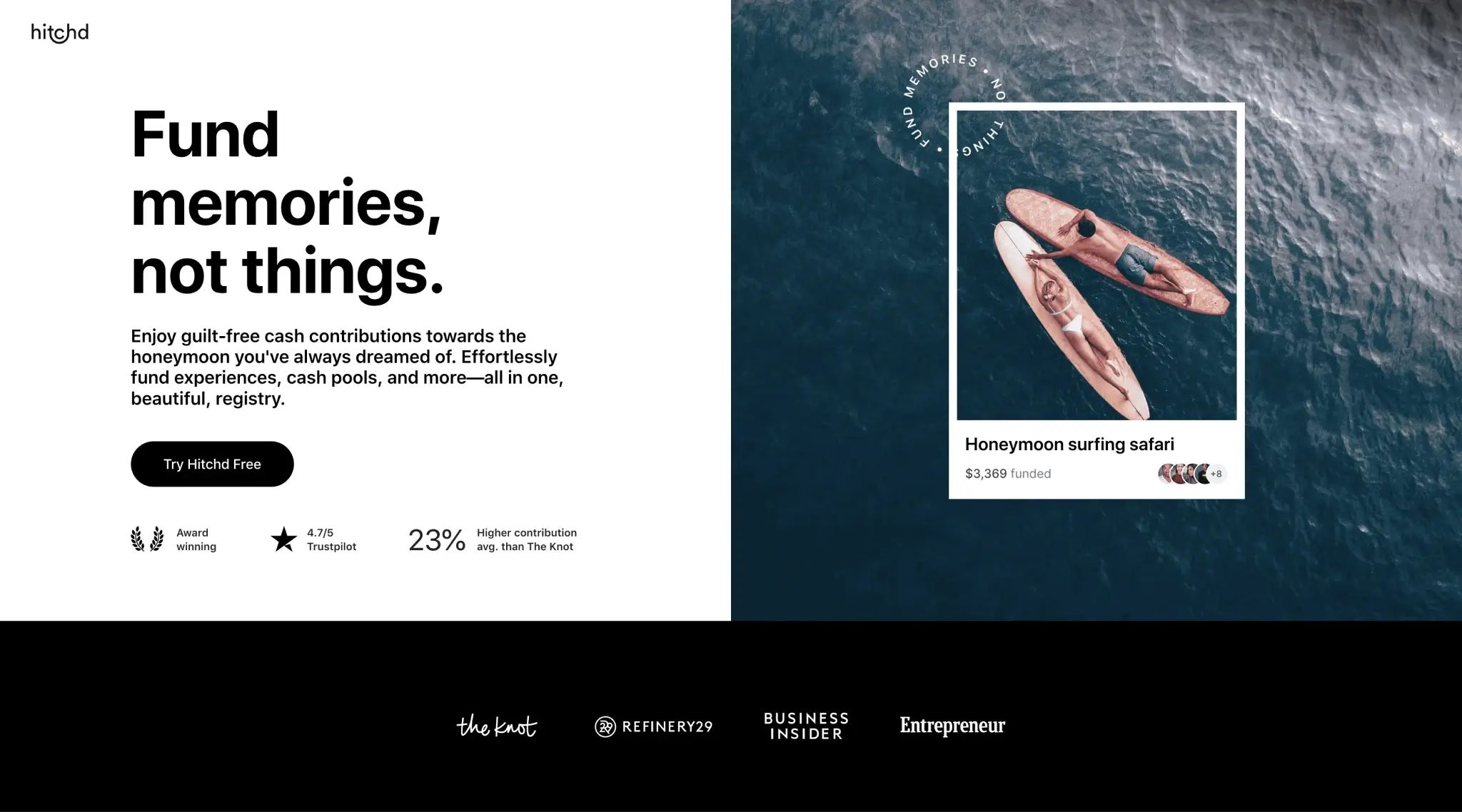 1. Hitchd
As an international registry with a stellar reputation, Hitchd serves as a phenomenal option for French couples seeking a highly customizable and user-friendly honeymoon registry.
Overview and Key Features
Hitchd stands out from the crowd with its emphasis on creating a personal and engaging honeymoon planning experience. The platform's intuitive design makes it easy for couples to itemize their honeymoon plans, allowing guests to contribute to specific experiences and truly feel part of the journey.
Moreover, Hitchd offers an array of features that make the registry creation process fun and seamless. Couples can utilize beautiful images, write personalized notes, and share their itinerary with guests, offering a fully immersive experience. The result is a unique, interactive registry that tells your story and invites your loved ones to be a part of it.
Pros and Cons
Pros:
Highly intuitive interface makes it easy to build and manage your registry
Enables couples to break down their honeymoon into specific experiences, allowing contributors to visualize how their gifts will be utilized
Wide range of customization options, from images to personalized notes, creates an engaging and personal experience
Transparent fee structure ensures couples receive the maximum benefit from gifts received
Cons:
A modest one-time fee is applicable, but considering the substantial percentages other registries deduct, the value proposition with Hitchd becomes abundantly clear.
Hitchd's thoughtful approach to honeymoon registry turns the process into an exciting and engaging experience, allowing couples to share their dream honeymoon journey with their loved ones.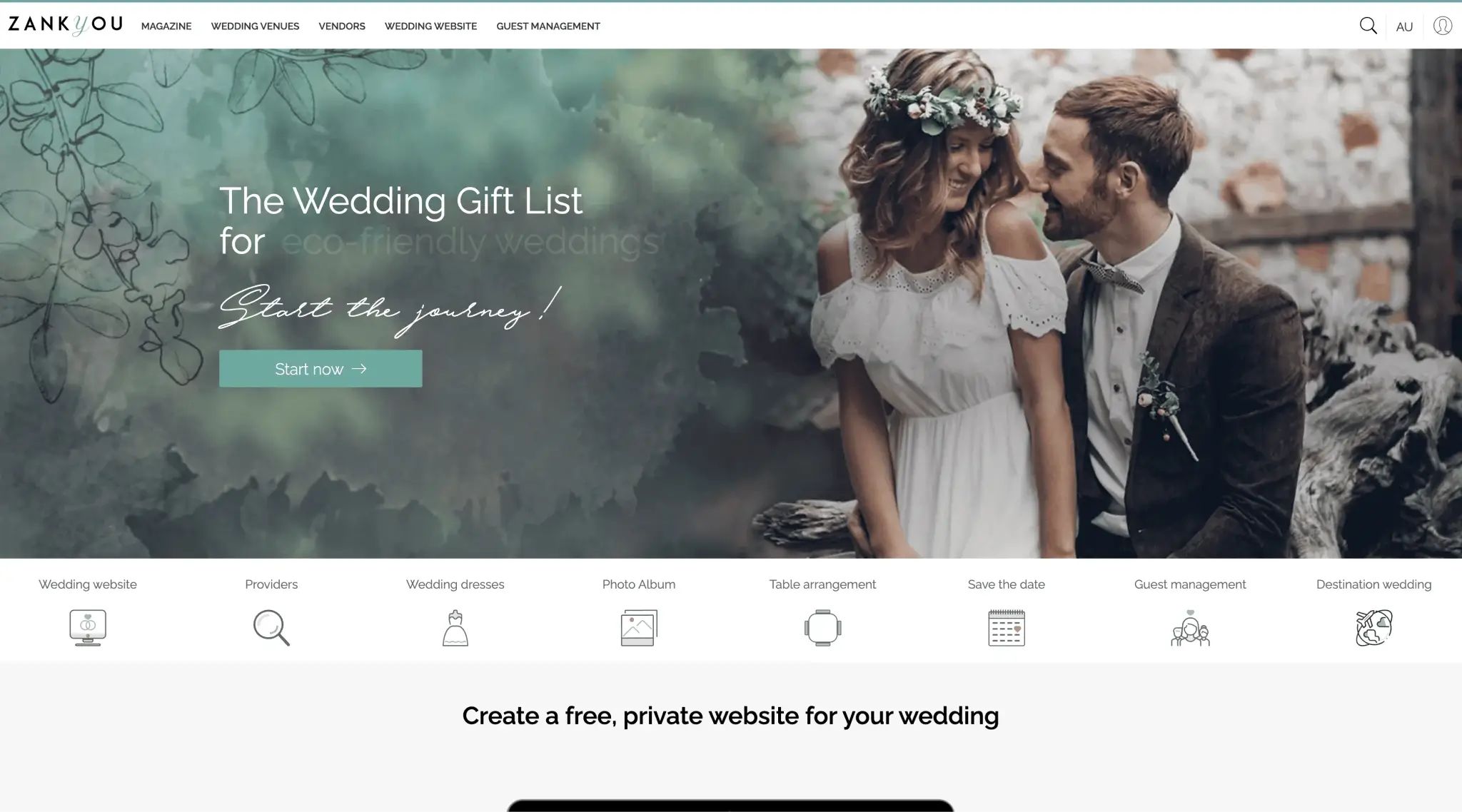 2. Zankyou
A globally recognized brand, Zankyou provides a versatile registry platform that accommodates various gift types, making it a popular choice among French couples.
Overview and Key Features
Zankyou's platform is comprehensive, offering couples the ability to register for physical gifts, experiences, or even cash gifts. This versatility can be appealing to couples who want to mix traditional wedding gifts with honeymoon funding. Despite its versatility, Zankyou doesn't quite capture the immersive and detailed approach to honeymoon planning offered by others.
Zankyou also boasts an extensive wedding directory, providing inspiration and resources for couples planning their nuptials. However, when it comes to crafting a detailed and personalized honeymoon registry, Zankyou falls short.
Pros and Cons
Pros:
Versatile platform that can accommodate any kind of gift or experience
Features a comprehensive wedding directory that serves as a useful resource during the wedding planning process
Cons:
Lacks a dedicated focus on honeymoon experiences
Less personal and immersive compared to others
Fee structure can be confusing, potentially leading to unexpected costs
Zankyou is a suitable platform for couples seeking versatility in their registry, but it doesn't offer a detailed, personalized honeymoon planning experience.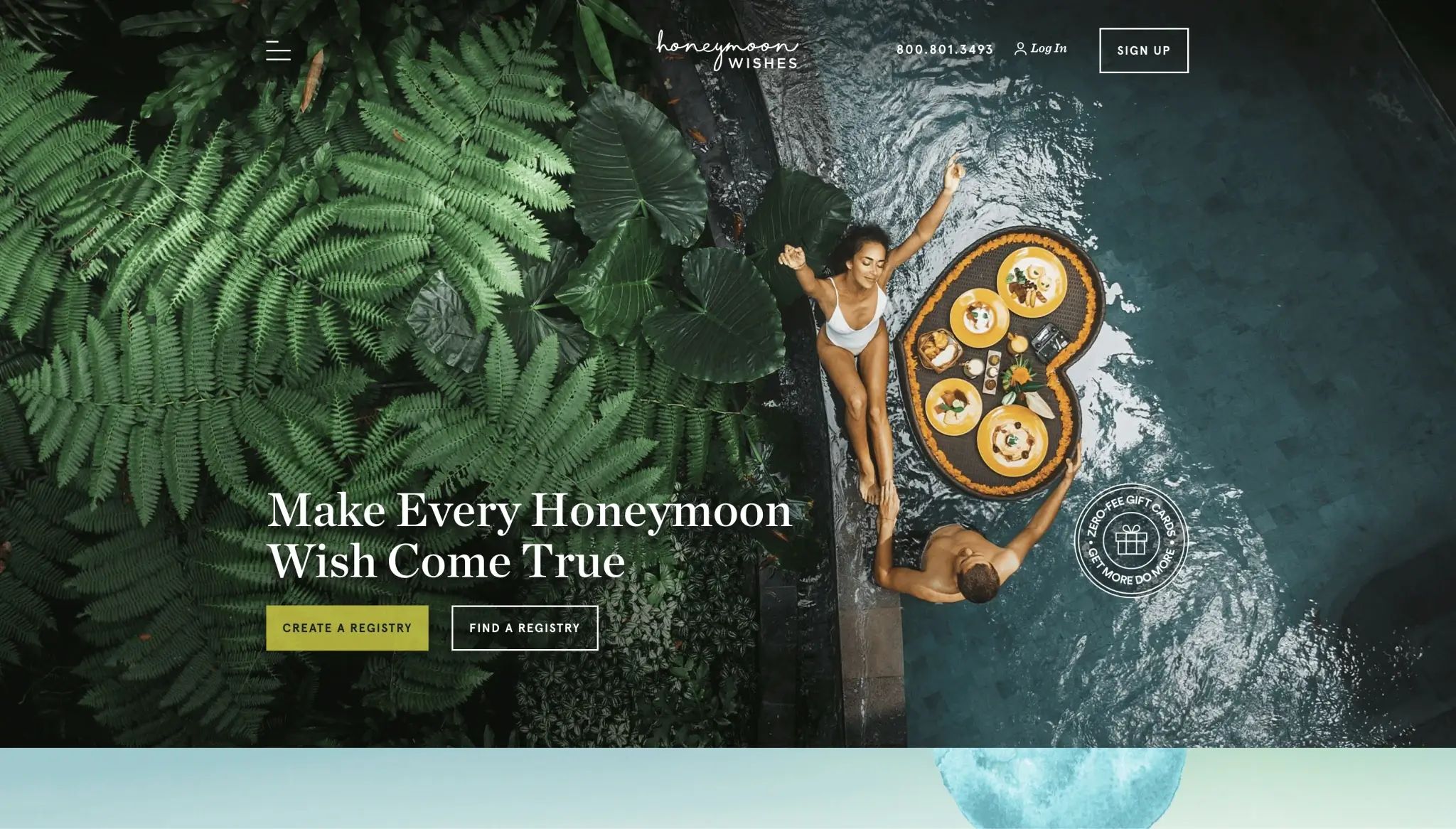 3. Honeymoon Wishes
Honeymoon Wishes is a popular choice based in the U.S but serving couples globally (only via PayPal), offering a versatile blend of options to suit all tastes.
Overview and Key Features
Honeymoon Wishes' strength lies in its variety. From kitchen gadgets and home decor to donations, cash gifts, and honeymoon funds, the possibilities are extensive. With Honeymoon Wishes, you can create a truly bespoke registry that reflects your unique tastes and lifestyle.
Honeymoon Wishes' honeymoon fund service is quite comprehensive, allowing you to break down your honeymoon into various components and experiences. However, it doesn't offer the same level of personalization or immersion as other registries.
Pros and Cons
Pros:
Extensive variety of options, allowing you to create a truly bespoke registry
Honeymoon fund service is quite comprehensive
Cons:
Less immersive and personalized compared to others
The platform's focus is not solely on honeymoon experiences
For couples looking for a one-stop-shop for all their registry needs, Honeymoon Wishes could be a good choice. However, for those who want a dedicated, immersive, and personalized honeymoon registry, there are others who are the superior choice.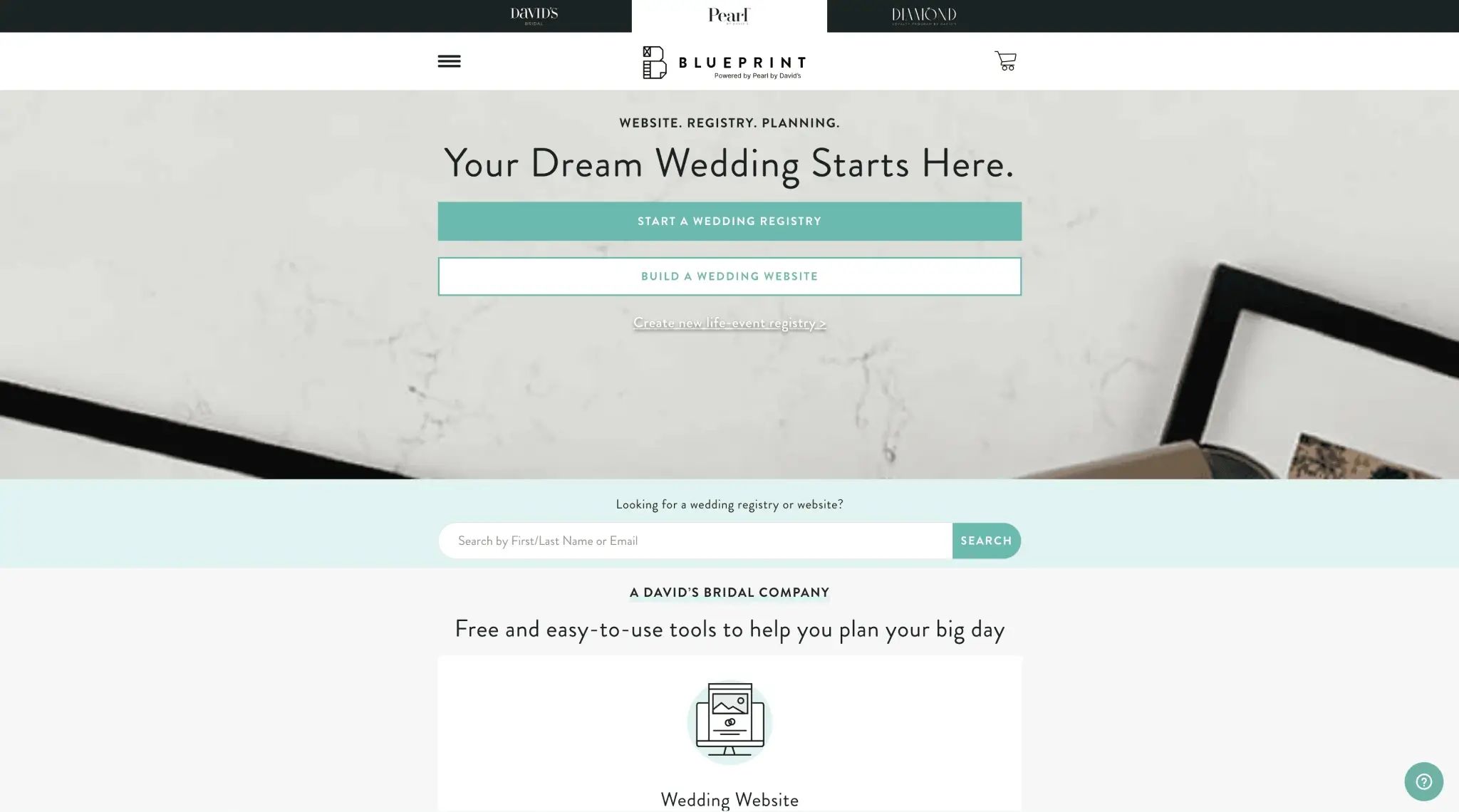 4. Blueprint Registry
Based in the U.S., Blueprint Registry offers a fresh perspective on registry creation, giving couples the ability to design their registry visually.
Overview and Key Features
Blueprint Registry stands out for its unique approach to creating a wedding registry. It allows you to design a blueprint of your home and assign gifts to each room, creating a visually appealing and intuitive registry.
When it comes to honeymoon funds, Blueprint Registry allows you to list different components of your honeymoon as individual gifts. However, its focus is not solely on honeymoons, and its interface isn't as streamlined, focues, or modern as others in this review.
Pros and Cons
Pros:
Unique, visually-focused approach to registry creation
Allows you to break down your honeymoon into components
Cons:
Not as streamlined or focused as others, particularly for honeymoon registries
Less customization and personalization options
Blueprint Registry could be an appealing choice for couples who enjoy its unique visual approach and want a registry that includes home goods.
How to Choose the Best Honeymoon Registry
Choosing the best honeymoon registry is not just about selecting the one with the most features, but the one that aligns best with your individual needs and desires. Here are a few factors to consider when making your decision:
Understand Your Honeymoon Goals
Before settling on a honeymoon registry, it's crucial to have a clear understanding of what your dream honeymoon looks like. Are you envisioning a week of relaxation at a luxurious resort, or an action-packed adventure trekking through rainforests and diving with marine life? Maybe it's a culinary tour through Italy's vineyards and France's patisseries. Identify your honeymoon goals and choose a registry that allows you to incorporate these experiences.
Consider the Fee Structure
Different registries have different fee structures. Some may charge a service fee or transaction fee, which can eat into the overall amount you receive. Understanding these fees upfront can help you avoid any unpleasant surprises down the line. Hitchd, for instance, is renowned for its transparent pricing model, ensuring you get the maximum benefit from your guests' contributions.
Evaluate User Experience
The honeymoon registry you choose should be easy to use for both you and your guests. A user-friendly interface, easy navigation, and a straightforward gifting process are all essential aspects. Remember, many of your guests may not be tech-savvy, so a simple and intuitive platform like Hitchd will make the process much smoother.
Read Reviews and Testimonials
One of the best ways to get a sense of a registry's quality is by hearing from couples who have used it. Look for reviews and testimonials to get an understanding of the pros and cons. Keep an eye out for comments about customer service, ease of use, and whether users felt they got value for their money.
In the end, the best honeymoon registry for you is the one that caters to your needs, aligns with your honeymoon goals, and provides the best experience for your guests.
Conclusion
Planning your dream honeymoon should be a joyous and exciting part of your wedding journey, and the right honeymoon registry can make that process even more delightful. For French couples, platforms like Hitchd offer a way to create a personalized, interactive registry that gives guests a meaningful way to contribute to your post-wedding adventures.
Whether you're looking for a registry that is focused on travel, one that allows you to list items from any store, or a service that provides the most personalized honeymoon experience, there's an option out there for every couple. But remember, the key to selecting the right honeymoon registry lies in understanding your needs and doing your research.
Embarking on your honeymoon should be about stepping into a new adventure as a married couple. So, choose a registry that makes it easy for you to fund that adventure, and then, all that's left is to start the journey of a lifetime.
Fund memories, not things.
The modern registry where guests fund your dream honeymoon. It's simple and beautiful.
Start your registry