In the joyous journey of wedding planning, one detail that has transformed over the years is the traditional wedding registry. Today's couples crave options that reflect their unique tastes, experiences, and lifestyle choices. At Hitchd, a leading online honeymoon registry, we understand this desire for flexibility and customization.
We have crafted a range of gift setting options, allowing couples to personalize their registries. Whether it's a tropical honeymoon getaway, a down payment for your first home, or contributions to your favorite cause, Hitchd opens a world of possibilities. In this article, we'll delve into the versatility of gift settings on Hitchd, exploring options like the bottomless gift, the fixed amount gift, the ability to split gifts into portions, the 'all or nothing' approach, and additional customizations like hiding the funding progress and language translation.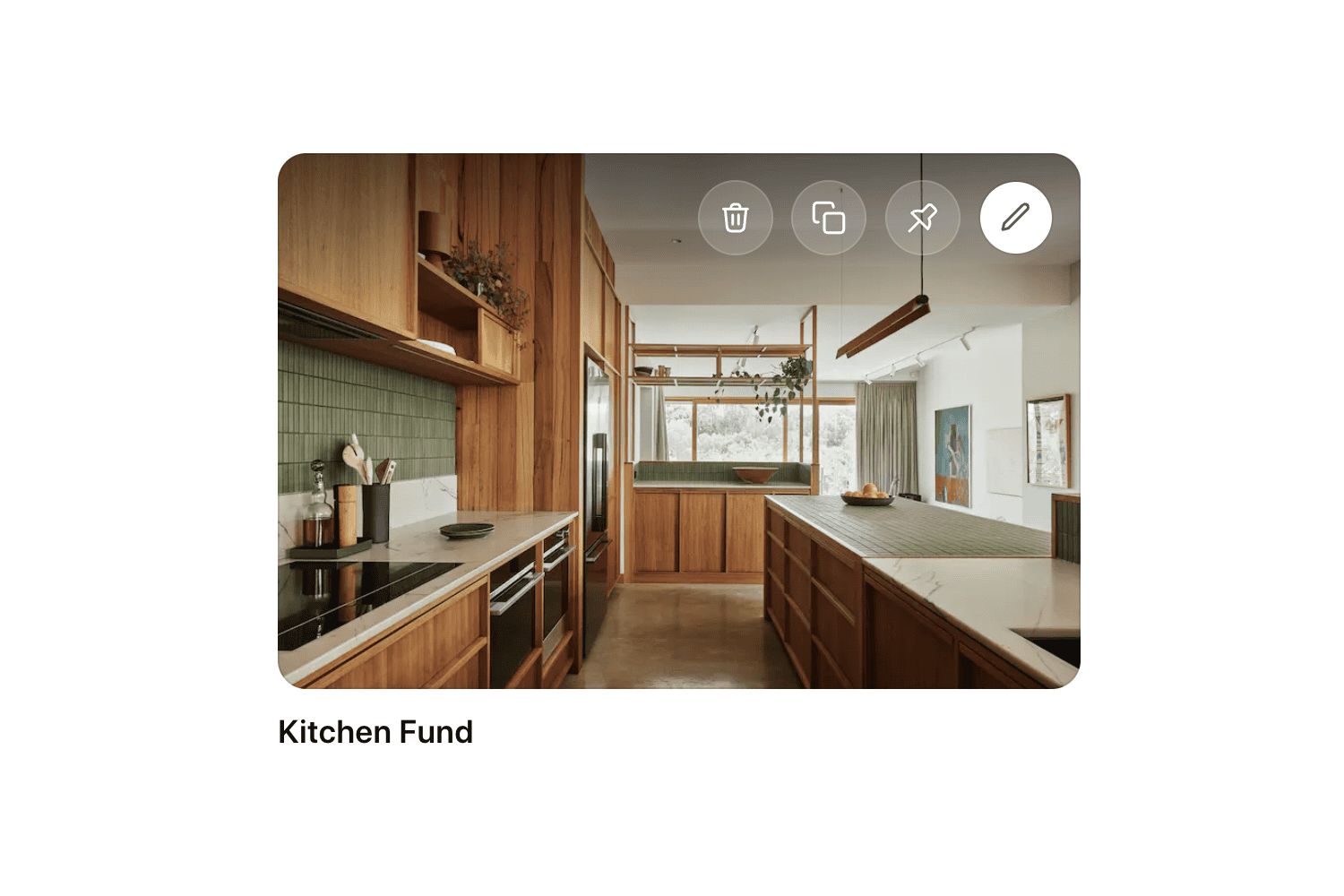 The Freedom of Choice: The No Limits Gift
With Hitchd, couples can request any amount for their gifts, a feature we fondly refer to as the 'no limits gift'. The bottomless gift gives couples the chance to list what they truly desire without limiting the scope to a specific amount. This feature allows couples to keep a gift open-ended, granting guests the freedom to contribute as much as they feel comfortable with.
The beauty of the no limits gift lies in its flexibility. Perhaps you're saving for a house and every dollar counts. Or maybe you're planning an epic multi-stop honeymoon, and you'd like guests to contribute towards the overall cost rather than to specific activities or locations. The no limits gift accommodates these scenarios and more, making it a fantastic choice for couples seeking flexibility.
The no limits gift is also perfect for gifts with an uncertain cost. For example, if you're not sure how much your dream dive into the Great Barrier Reef will cost when the time comes, a bottomless gift allows your guests to contribute towards this adventure without setting a limit.
Regardless of the type of gift, the no limits gift option ensures that all contributions are meaningful and impactful, offering a unique way for guests to be a part of your journey.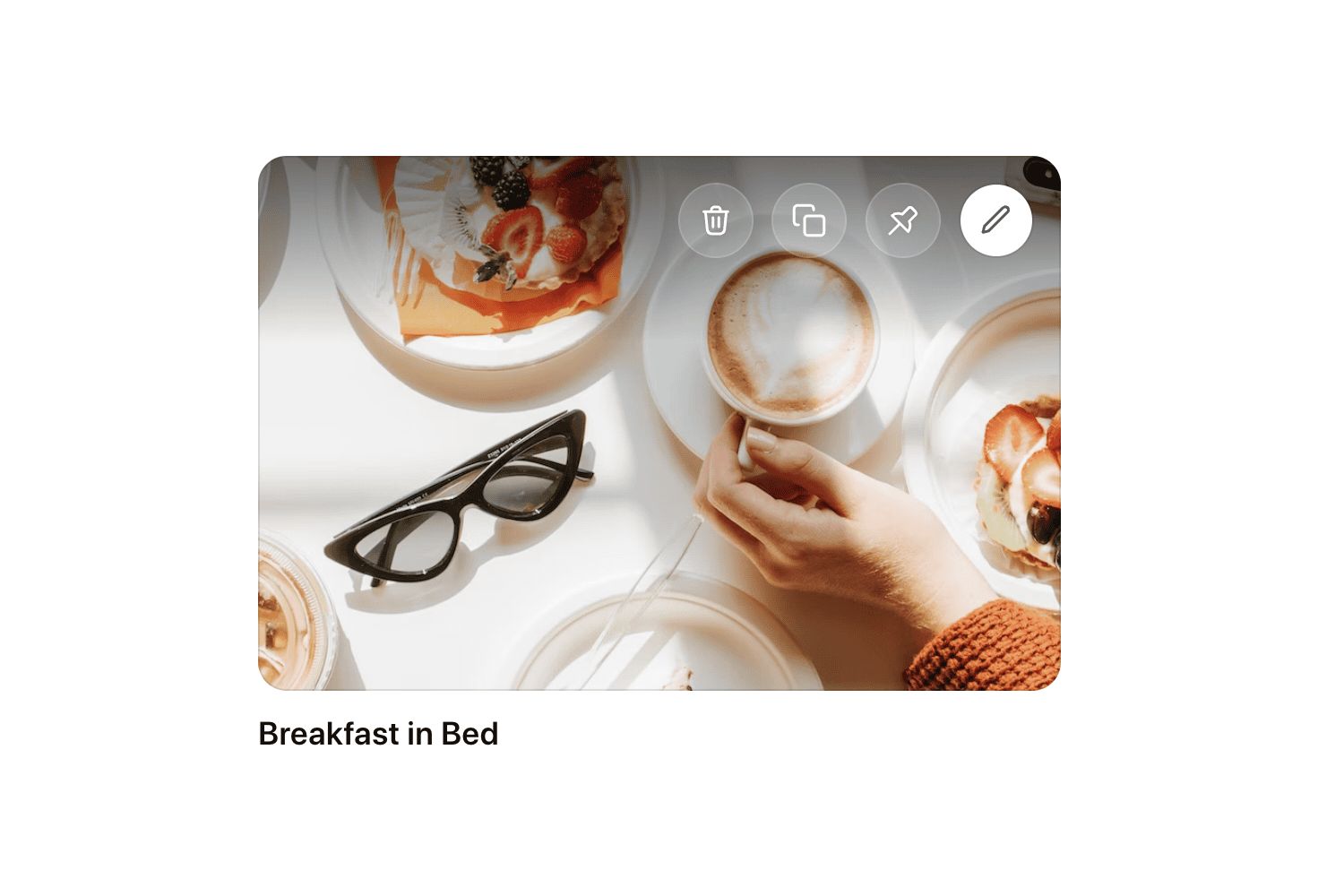 Offering Certainty: The Fixed Amount Gift
Not all couples prefer the open-endedness of the no limits gift, and that's where the fixed amount gift comes into play. This option allows couples to specify an exact amount for each gift on their registry.
The fixed amount gift is an excellent way to curate a registry that aligns with your specific needs and expectations. Whether it's a $200 romantic dinner at a fancy restaurant, a $500 hot air balloon ride over Cappadocia, or a $1000 flight ticket to Bali, a fixed amount gift gives a concrete sense of what guests are contributing towards.
One of the significant benefits of a fixed amount gift is that it allows your guests to understand exactly what their contribution is going towards. This adds a personal touch, allowing them to feel more connected to your honeymoon experiences or future plans.
Fixed amount gifts provide certainty and clarity, offering a straightforward way for your guests to be part of your special journey.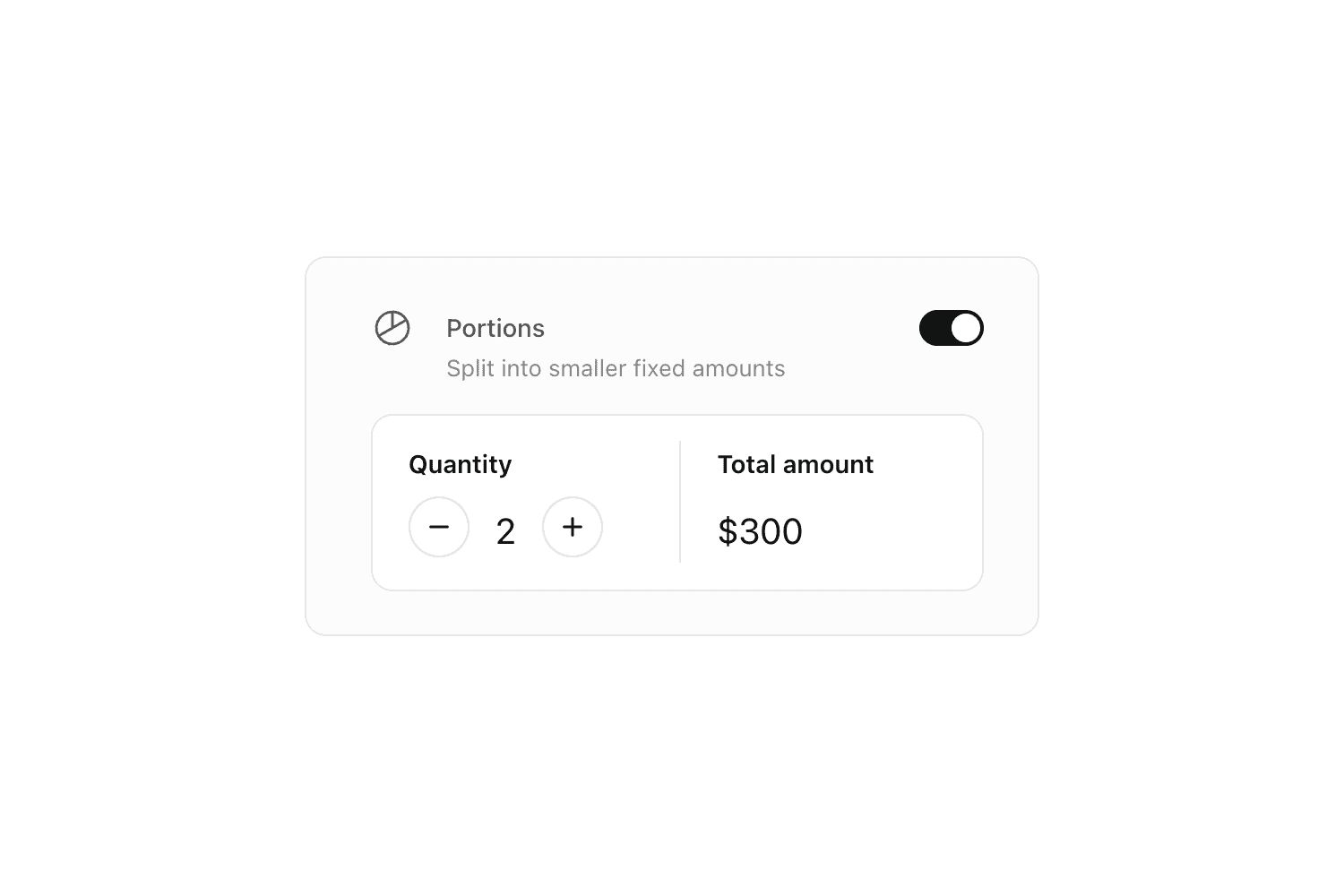 Getting the Best of Both Worlds: Splitting Into Portions
Within the realm of fixed amount gifts, Hitchd offers further flexibility by allowing couples to split gifts into portions.
Think of this as a way to divide a larger gift into smaller, more manageable chunks. For example, if you have a dream of a week-long stay at a luxurious resort costing $2,000, you could split this gift into 20 portions of $100 each. This way, multiple guests can contribute to this one gift, making it more affordable for each individual guest.
Splitting gifts into portions can make larger or more expensive gifts more accessible to guests. It allows them to contribute towards significant parts of your honeymoon or future life without bearing the entire cost.
This option balances the desire to include some bigger ticket items on your registry, without making guests feel obligated to contribute more than they're comfortable with. It's a thoughtful approach that allows everyone to partake in your joyous journey.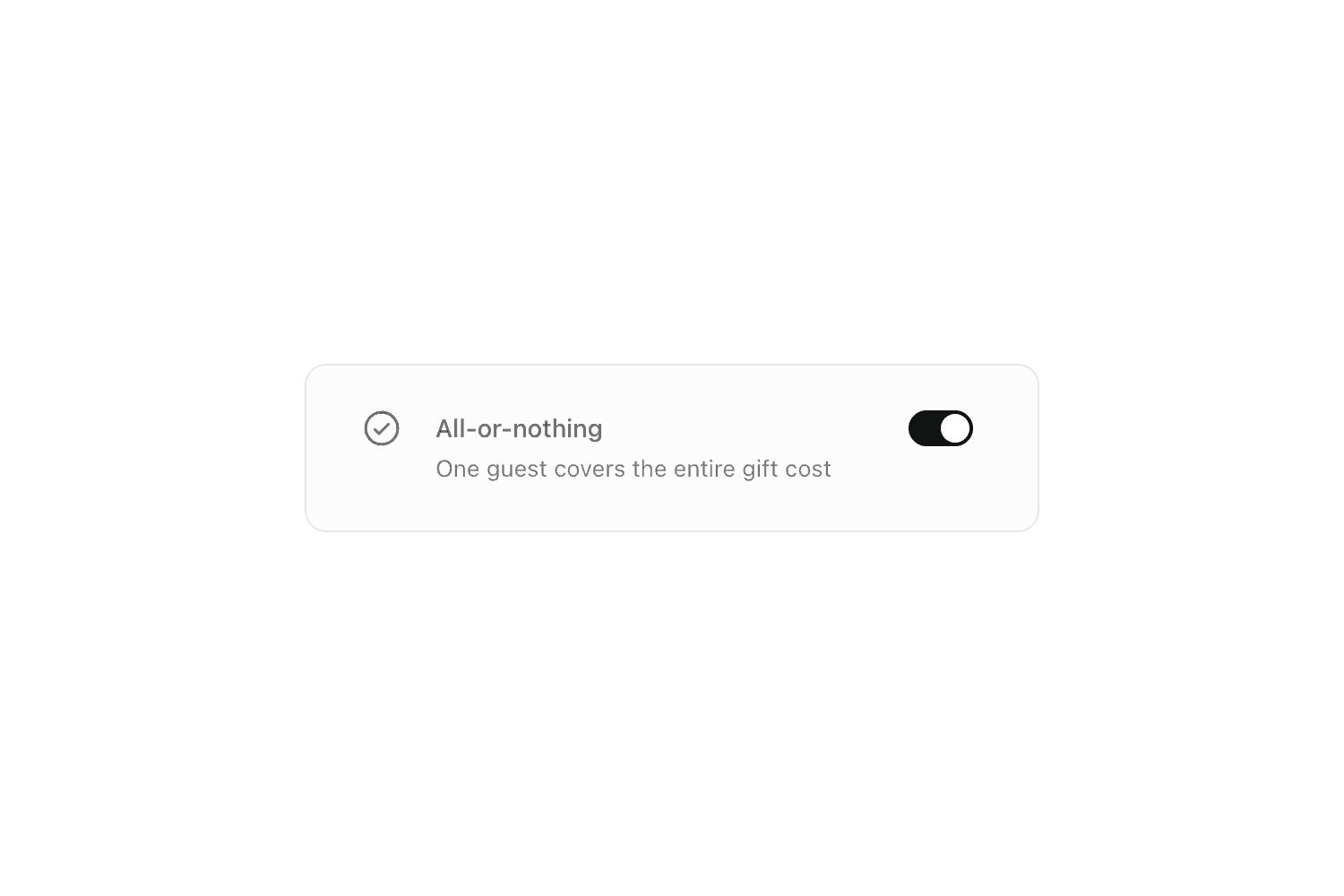 All-or-Nothing: A Unique Approach
Within the flexibility of the Hitchd platform, there lies another unique option for your registry - the 'All-or-Nothing' approach. This setting requires that a guest purchase the entire gift, as opposed to contributing a portion of its total value.
This choice is particularly useful for gifts that cannot be divided or shared. For instance, a cooking class for two in Paris, an exclusive wine tasting experience in Napa Valley, or a couple's spa treatment in Bali. These are experiences that are truly shared between the couple and are more meaningful when funded in their entirety.
The 'All-or-Nothing' approach also appeals to guests who wish to provide a complete gift, rather than contributing towards a part of it. It offers them the satisfaction of knowing that they have wholly funded a memorable experience or a cherished item for the couple.
Remember, the 'All-or-Nothing' feature is not designed to pressure guests into making larger contributions. Rather, it's about providing options and maintaining the integrity of certain gift experiences.
At Hitchd, we believe that every gift, big or small, plays a special role in the couple's journey, and the 'All-or-Nothing' approach is just another way we cater to diverse gifting preferences.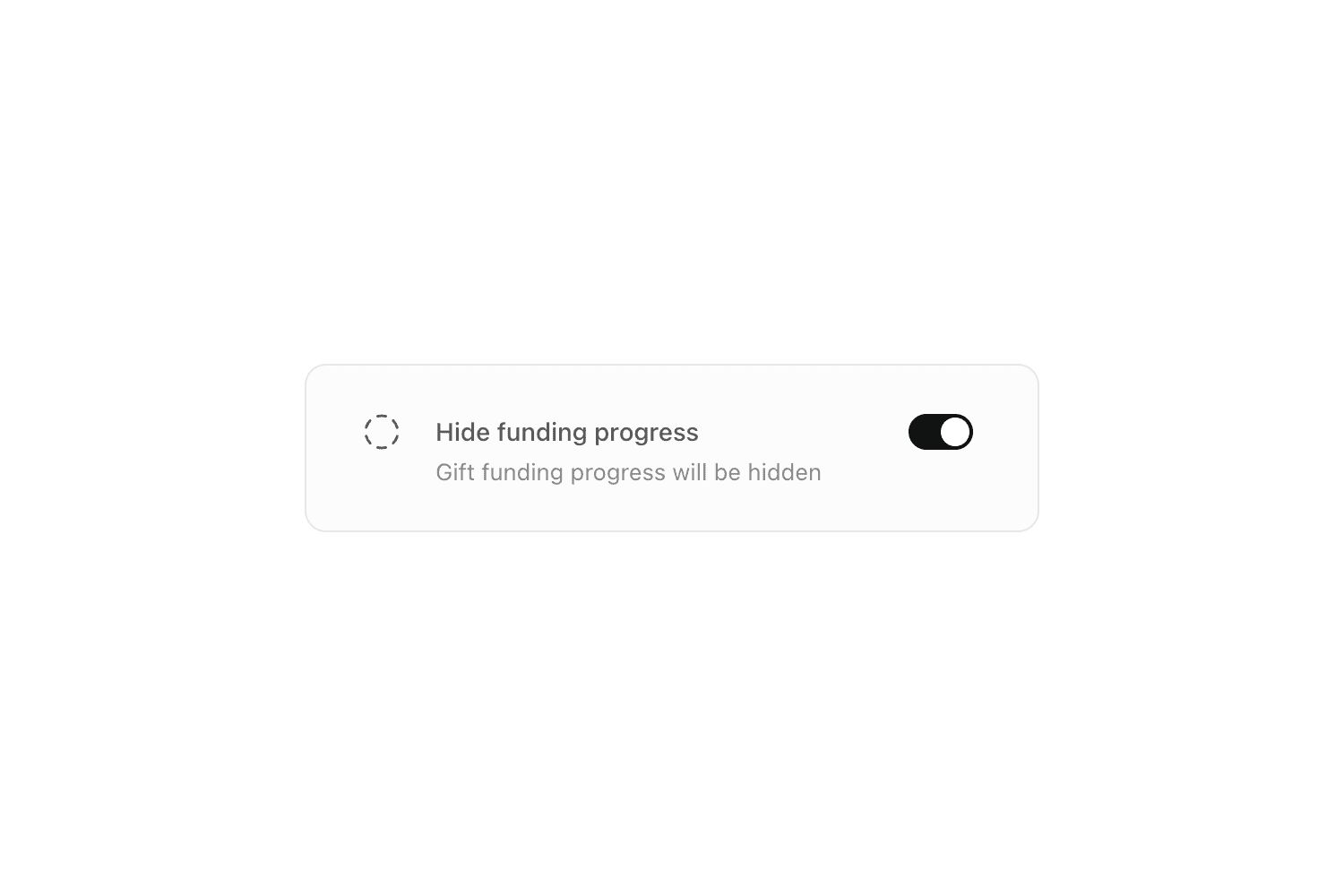 Customizing Your Registry: Hiding Funding Progress and Language Translation
We understand that for some couples, gift registry is a private matter. That's why Hitchd allows you to hide the funding progress of your gifts. With this feature, guests can't see how much has already been contributed towards a gift. This ensures the focus remains on the joy of giving and sharing, rather than on the amounts involved.
Another crucial aspect of personalizing your Hitchd registry is the ability to translate the language of the gift. We live in a diverse world, and it's likely that some of your guests may be more comfortable in a language other than English. Our translation feature ensures that everyone feels included and can navigate your registry with ease.
Whether it's translating your entire registry into Spanish for your relatives in Spain, or just a few gifts into French for your childhood friend from Quebec, this feature allows you to communicate your wishes in a way that resonates with all your loved ones.
The Power of Choice with Hitchd
Choice, flexibility, and personalization are at the heart of the Hitchd gift setting options. Our goal is to create a seamless, stress-free, and enjoyable experience for both you and your guests.
From the no limits gift that allows for unlimited contributions, to the fixed amount gift that provides certainty, to the option of splitting gifts into portions, we aim to accommodate different preferences and needs. With features such as the 'All or Nothing' approach, the ability to hide funding progress, and the language translation, we ensure your registry is as unique as your love story.
At Hitchd, we believe in celebrating love in all its forms. Our innovative and intuitive platform allows you to create a registry that truly reflects your journey and aspirations as a couple. Each gift on your Hitchd registry is more than just an item or experience - it's a memory waiting to be created, a dream waiting to be fulfilled.
So, why wait? Start your journey with Hitchd today, and let us help you create a gift registry that you and your guests will love. After all, your honeymoon is not just a trip - it's the beginning of a lifetime of shared experiences and cherished memories. Let Hitchd be a part of this beautiful journey.
Remember, your registry, your rules. Let Hitchd help you create a honeymoon registry as unique as your love story.
Fund memories, not things.
The modern registry where guests fund your dream honeymoon. It's simple and beautiful.
Start your registry