As you get deeper and deeper into wedding planning, your to-do lists will get shorter, and the constant decision-making begins to taper off. Whew! Right? It's hard work, but one of the best parts about wedding planning is creating your dream honeymoon registry.  And trust us, this is a fun task because who doesn't love dreaming up vacations? So, if you're searching for the best honeymoon registry sites or an alternative to Honeyfund, this post is for you!
While Honeyfund has become a popular option for modern couples, it may not fit everyone. Some couples may want to explore alternative options that better align with their needs and values. Fortunately, many alternatives to Honeyfund cater to various preferences and budgets. For example, couples love the Hitchd honeymoon registry and taut it as the best alternative to Honeyfund for many reasons, which we'll explain today.
In this blog post, we will explore some of the top alternatives to Honeyfund and highlight their unique features and benefits. Whether you are looking for a registry that supports charitable causes, offers more flexibility in gift options, or simply has a more user-friendly interface, we've got you covered. So, let's dive in and discover the perfect registry for your special day!
Wedding Wish Lists 2.0: The Best Honeymoon Registry
Wedding registries have come a long way since the traditional registry items department store lists of the past.
A quick search on Google will return numerous options for your honeymoon fund, such as Hitchd, Honeyfund, The Knot, and Zola, to name just a few. And with so many options, figuring out which is best for "your" wedding registry service may be challenging. And while Honeyfund may be one of the first ones you see, first on the list isn't always the best for you or your wedding. So, today we're unlocking some secrets to help you decide which honeymoon registry sites are the best alternative to Honeyfund and the right one to plan your post-wedding getaway.
With the rise of crowdfunding sites like Honeyfund, couples now have more options than ever to help fund their dream honeymoon or other memorable experiences. This is awesome because everyone has different likes and needs. And as they say, "variety is the spice of life," and the same can be true about honeymoon funds.
Going the popular route, or what pops up first on the search engines, isn't always the best option; doing a little research to find the registry that fits your individual needs is important. So, if you're looking for more unique and personal options, this post is for you! We've created a list of creative alternatives to the Honeyfund registry.
Why Honeyfund Might Not Be Enough For Your Wedding
Honeyfund is a popular crowdfunding platform for wedding gifts, but it may only fit some. Here are a few reasons why you may want to consider an alternative:
You Need More Personalisation Options:
While Honeyfund is a good option for those who want to fund their honeymoon or other extraordinary experiences, it may only fit some people's needs. For example, some couples may wish to have more control over the look and feel of their registry page or the ability to add personal photos and stories. And more control over the types of gifts or experiences that you add to the registry.
Limited gift options:
Honeyfund primarily focuses on funding travel and experiences, but what if you have other priorities, like a down payment on a home or a special purchase? Other registries, such as Hitchd, offer more flexible options for couples to include gifts that align with their values and interests.
When you're assembling your honeymoon registry, you need more gift options that complement your holiday and your life.
Fees:
Honeyfund claims to be free, but it's not totally true. They try to get you to use their gift card system to receive your cash gifts. So, if you use their gift cards, there are no fees, but if you prefer to receive your cash funds directly to your bank, you can bet they'll tack on some fees.
Instead of limiting yourself to the Honeyfund Wallet and having to choose from their digital gift cards, use a honeymoon registry like Hitchd to receive your cash gifts. Hitchd is a one-time fee with several payment options (some have a small processing fee, others are free!), but you get cash to spend however you wish - no restrictions!
User experience:
Some couples and their guests may find the experience with Honeyfund less optimal. Other registries may offer a more seamless and user-friendly interface, making managing your registry and tracking contributions easier.
In our ever-changing tech-savvy world, guests want to use platforms that have a beautiful design, are easy to use, and offer a great experience. Many couples feel that Honeyfund falls short in this area, making choosing an alternative honeymoon cash registry necessary.
Some more ideas
Here are a few other reasons to choose an alternative to the Honeyfund honeymoon cash registry.
Not International user-friendly - Largely focused on the US (e.g., The Honeyfund wallet doesn't work outside of the US)
Limited honeymoon gift templates to choose from
Dated look and feel
Your guests will see numerous ads.
Honeyfund promotes it's free, but it's not unless you're based in the US
There is no option to pass fees on to guests; you (the couple) must always absorb the fee
There is no option to send thank you cards
You want to choose a registry that receives 65% more contributions than the industry average…at Hitchd, more contributions mean more gifts and cash funds.
While Honeyfund is a popular option, there may be better fits for some. Consider exploring Honeyfund alternatives to find one that aligns with your individual needs, values, and priorities. For example, many options are available if you want more personalization, flexible gift options, affordable fees, or a better user experience.
Why Hitchd Is An Awesome Alternative To Honeyfund
Hitchd is a honeymoon registry that provides a more comprehensive and seamless experience for the couple and their guests. Unlike Honeyfund, Hitchd offers a wide range of travel options, from luxurious resorts to unique adventure experiences, all curated to fit the couple's individual style and budget.
Another critical advantage of Hitchd over Honeyfund is its user-friendly interface. The registry platform is designed to be intuitive and easy to use, with a simple and beautiful interface that makes it easy to add gifts and track contributions. Hitchd also offers a suite of tools for managing your registry, including customizable pages, group gifting options, and the ability to add personal photos and stories.
Here are a few other reasons why Hitchd is one of the best wedding and honeymoon registries.
You may include a customized welcome greeting on your honeymoon fund registry.
Include pictures of you and your fiance.
Utilize the pre-populated wedding gift and experience suggestions.
Your guests won't be bombarded with ads.
Hitchd provides templates for interactive video gifts.
Direct deposit of funds into your bank account
Supported in 26 countries for couples, and guests can be anywhere around the globe.
You receive cash, no gift cards, and you're not limited to a subset of stores with higher prices.
Simple for visitors and couples to use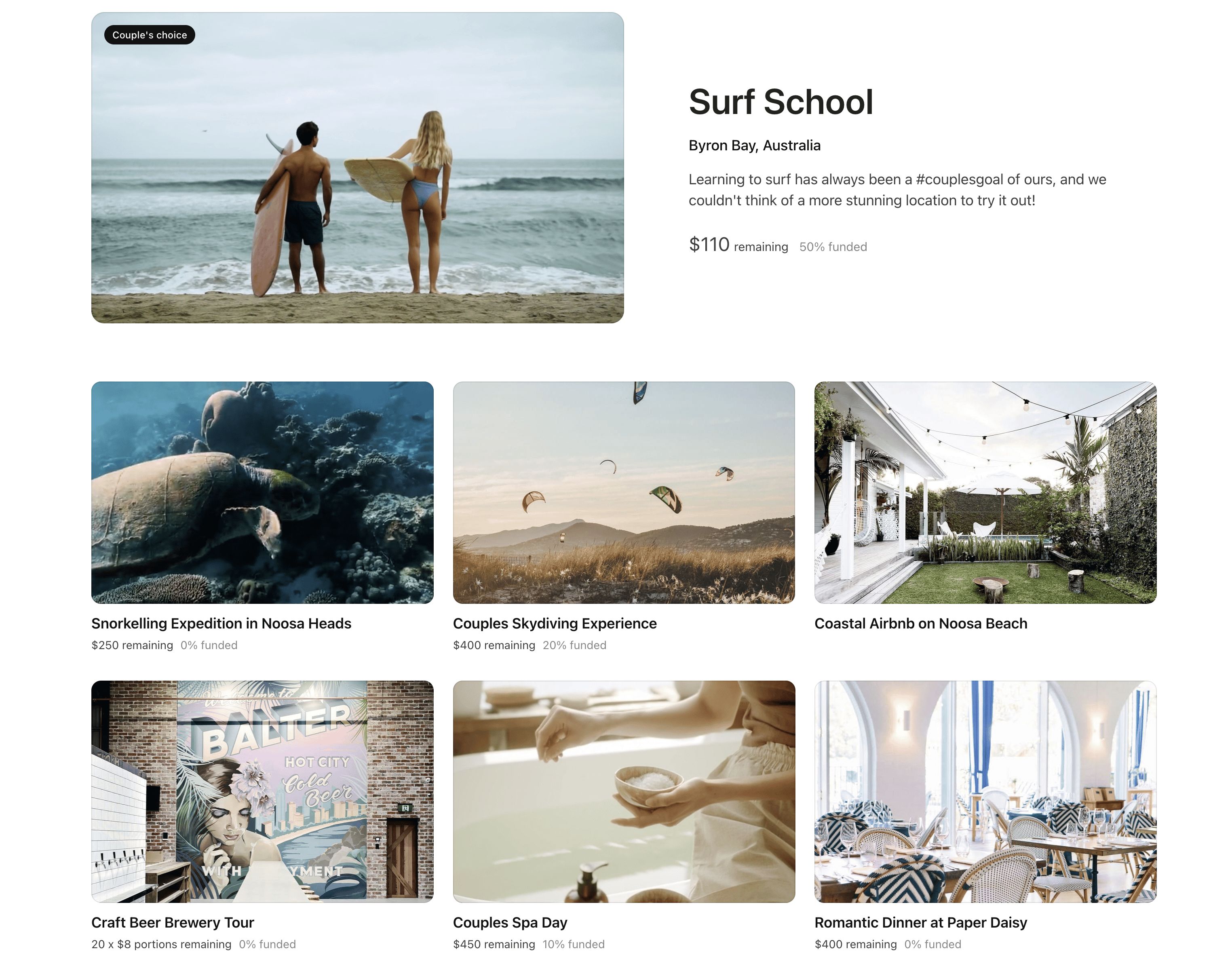 Hitchd also prides itself on its exceptional customer service and support. The team is always available to help with any questions or issues and provides a seamless and hassle-free experience for both the couple and their guests. With Hitchd, you can rest assured that your honeymoon registry will be a success.
What Type Of "Gifts" Can You Include In Your Honeymoon Registry?
With Hitchd, you can include various gifts or experiences in your honeymoon registry, ranging from luxurious resort stays to unique adventure travel.
Some popular options include:
Cash
Romantic spa treatments
Gourmet dining honeymoon experiences
Scenic helicopter tours
Exciting water sports activities
Craft brewery tours
Airfare
Accommodations
Museum tours
Hot air balloon rides
Safari
Adventure gifts (skydiving, ziplining, hiking, ATV riding, etc.)
Artwork
Baby Funds
Bike tours
Car or home deposit
Casino date night
Charity Donations
Cruise
Concerts
Cooking classes
Dance classes
Furniture fund
Create your own category
The beauty of creating your cash wedding registry with Hitchd is that you create your own "unique" wishlist or honeymoon fund registry. You can select from various pre-designated categories or create your own categories. It's a wonderful way to curate a list of gift items or experiences that will truly be cherished rather than collecting dust on the kitchen counter or in a cabinet (like those traditional gifts).
You can also choose from various curated travel options, such as romantic getaways to tropical destinations, scenic road trips, and cultural city adventures. With Hitchd, the endless possibilities allow you to create a truly personalized and meaningful honeymoon fund registry that reflects your style and interests. So whether you want to relax and rejuvenate or create unforgettable memories, Hitchd has got you covered.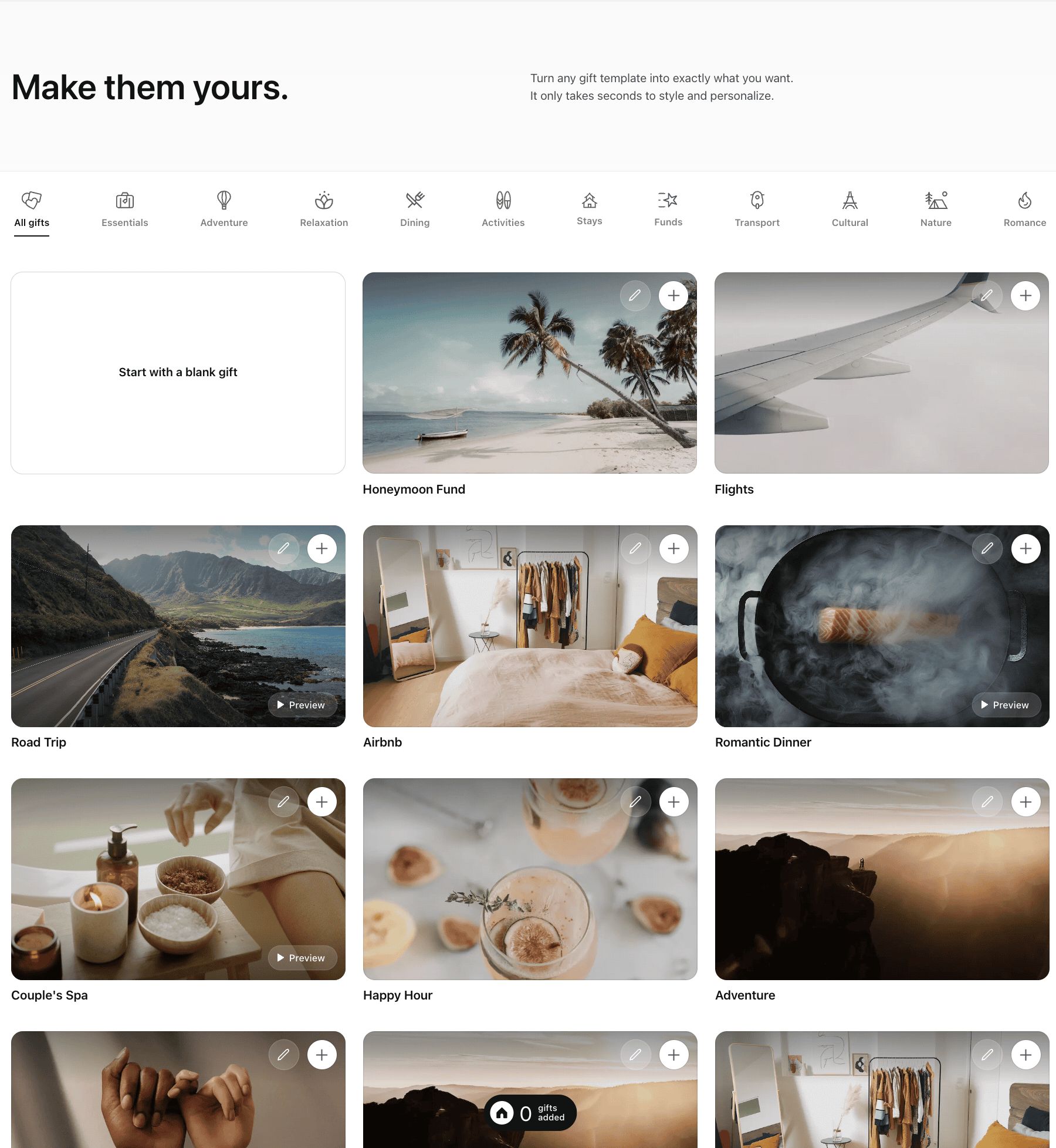 From Honeyfund to Happily Ever After Exploring Other Honeymoon Registry Sites
While Honeyfund is a popular option for wedding registries, there may be better fits for some couples. Many alternative registry or cash fund options offer unique features and benefits that align with different priorities and needs. There is something for everyone, from the traditional department store registry to more creative options like cash registries and honeymoon fund registries. And only you can know which one is the best Honeyfund alternative and the best one for your love story.
Exploring these other options, like Hitchd, can help you create a honeymoon fund registry that reflects your style, interests, and values, making your special day truly memorable for you and your wedding guests. So, as you embark on your wedding planning and journey towards happily ever after, don't be afraid to consider other registry options and make your wedding day truly unforgettable.
And make sure to include it on your wedding website so your wedding guests can help you achieve all your honeymoon wishes.
Fund memories, not things.
The modern registry where guests fund your dream honeymoon. It's simple and beautiful.
Start your registry