It's essential to streamline and automate much as possible in wedding planning to get everything done on time, plus have time to breathe before your big day. Thankfully, one of these tasks that can be automated is the gift-giving process. This is where technology comes in to assist.
Traditionally, you'll be forced to come up with a list of different physical items and send the message to all your guests before the wedding. But these days, things are changing. People are now opting for the modern way of wedding gifting with honeymoon registries.
The Benefits of Using a Honeymoon Registry Website
Creating an online registry has become an increasingly popular trend among couples. Honeymoon registry websites provide a convenient way for couples to fund the trip of their dreams by asking their guests to spend to contribute monetary gifts instead of traditional physical gifts.
Here are some of the top benefits of using a honeymoon registry website:
Flexibility: Couples have the flexibility to decide on the items they want to receive and the experiences they want to enjoy while making memories on their honeymoon. They can select specific activities, hotel stays, and excursions and add them to their registry.
Monetary gifts: Rather than receiving physical gifts that may not be useful, couples can receive monetary donations that will help them fund their destination expenses. This is especially useful for couples who already have their life set up at home and do not need additional household items.
Personalization: Honeymoon registry websites allow couples to personalize their registry to match their preferences and styles. They can choose from various themes, designs, and templates to make their registry unique.
Convenience: Creating a honeymoon registry website is convenient for couples to communicate their preferences to their guests. They can easily share their registry link through social media, email, or on their wedding website.
Memories: Registry websites can also help couples create lasting memories of their honeymoon. Guests can contribute to specific activities or experiences, making them more meaningful and memorable for the couple.
Why Use Hitchd for Your Honeymoon Planning?
Hitchd is an online honeymoon registry site to help you with planning your honeymoon. Our service fully automates the process once you get set up. This article will discuss a few tips and tricks to help you get the most out of Hitchd when planning your honeymoon, including the excellent range of features and how to get your profile up and running.
In 2021 Hitchd conducted a study that concluded that couples receive up to 65% more contributions than the industry average when using our platform. The average industry contribution through honeymoon registries is around $120. When using Hitchd, couples receive, on average, $198 per contribution.
This is down to the ease of use of the site and its range of unique features that personalize your registry experience and make it a breeze for your guests to send gifts. With all that extra money for your bucket list trip, you can splurge so much more on your romantic getaway to make it extra special.
Hitchd Key Features
With our range of unique features, Hitchd makes it easy for couples to customize their registry experience and allows guests to send gifts quickly and conveniently. Let's examine why Hitchd is the number one honeymoon registry.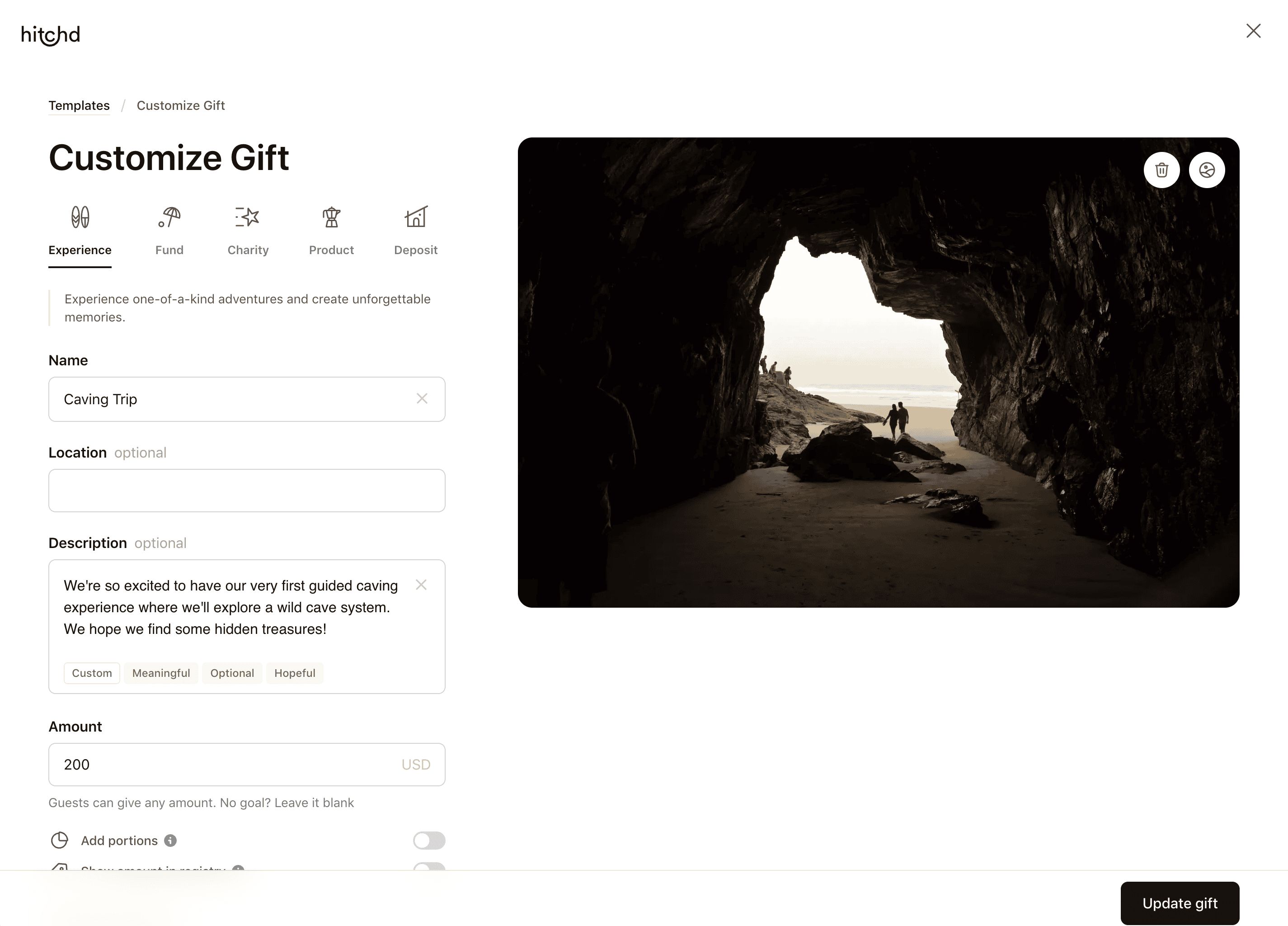 Easy Gift Creation
With Hitchd, creating a honeymoon registry for your wedding guests to contribute to your honeymoon fund has never been easier. Sign up for an account and create a custom list of gifts you'd like to receive for honeymoons. This can range from spa treatments to romantic dinners and adventurous activities. Guests can easily browse your registry and contribute towards the gift of their choice, making the gift-giving process simple and hassle-free.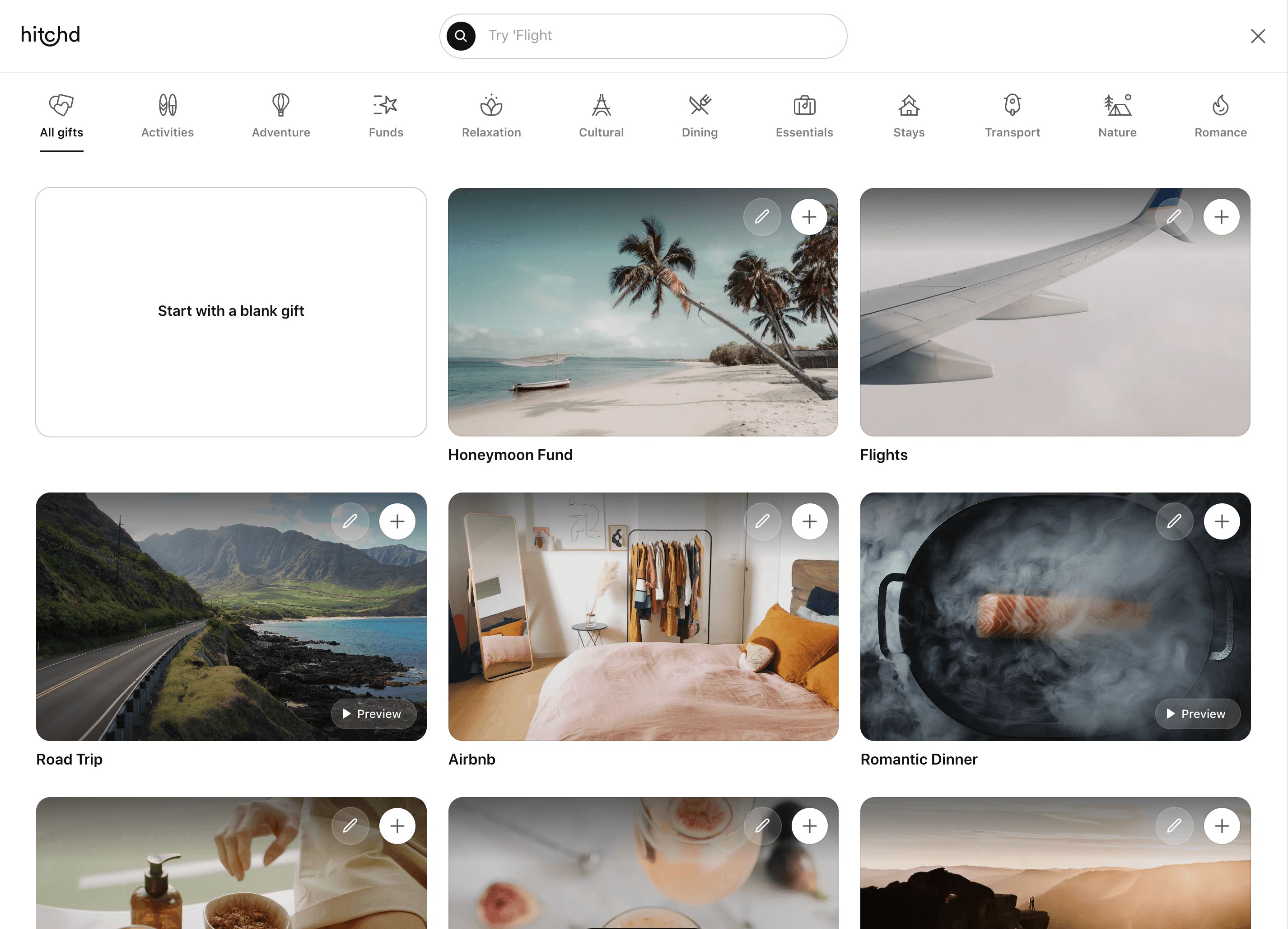 Template Library
If you need help designing your honeymoon itinerary, Hitchd has a wide selection of pre-made templates. Browse through the selection of templates, select the one that best suits your needs, and customize it to your liking. These templates include everything from romantic beach getaways to adventurous mountain retreats and everything in between. With Hitchd's template library, planning honeymoons has never been easier.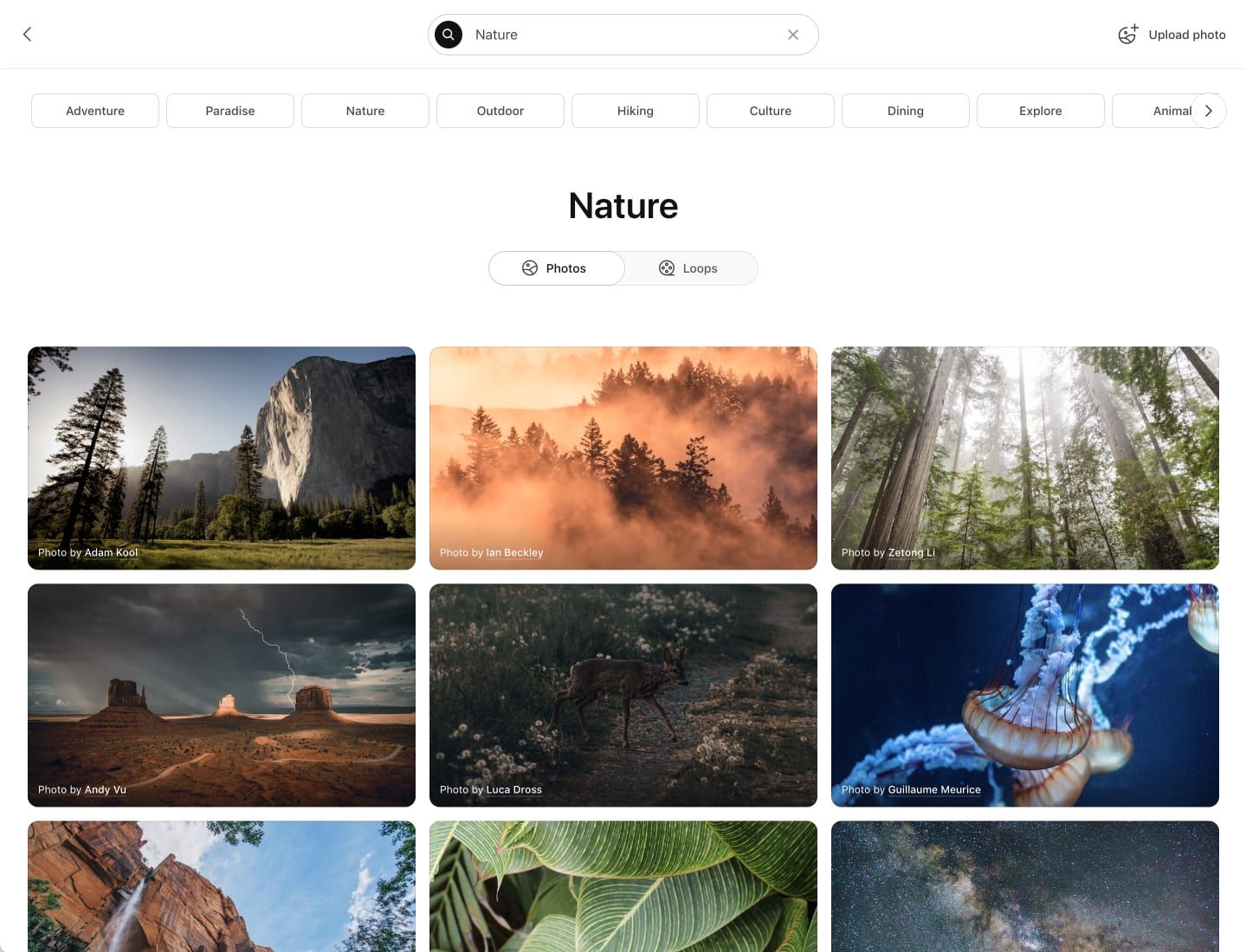 Massive Variety of Stock Images & Videos
Hitchd provides access to a vast library of stock images and videos to help inspire your honeymoon planning. The photos and videos are HD quality and can be used to help create your custom itinerary or to give you inspiration for new ideas. Whether looking for scenic landscapes for sightseeing, luxury hotels, or a night out on the town, you'll find everything you need to create the perfect gift listings.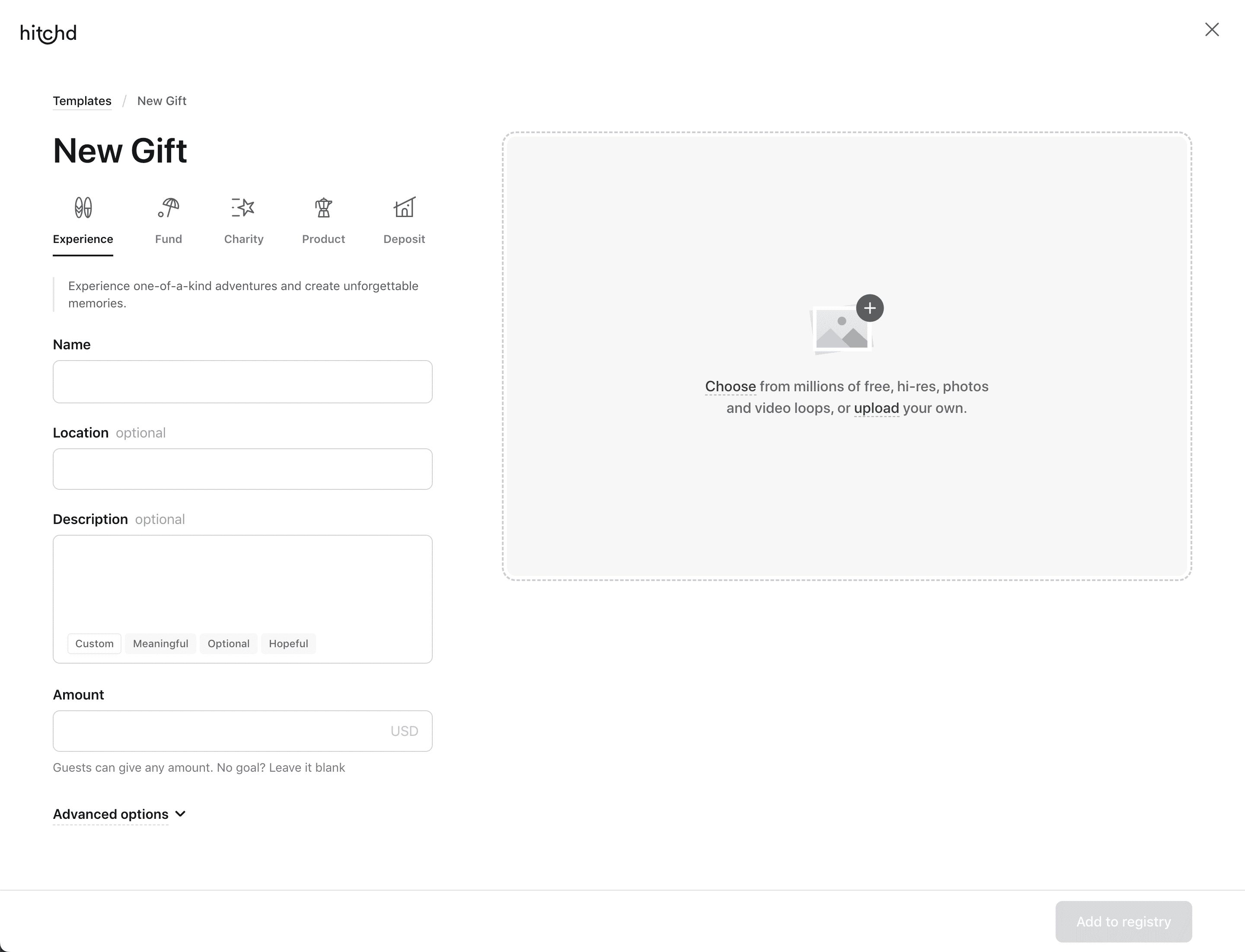 Create Custom Gifts
If you don't want to create gift listings using preset templates, you can create custom listings and manually add all of the information to gift ideas. This takes longer to set up, but it gives you complete control over the gift listing and allows you to add all of the details, such as prices, your own images, and descriptions.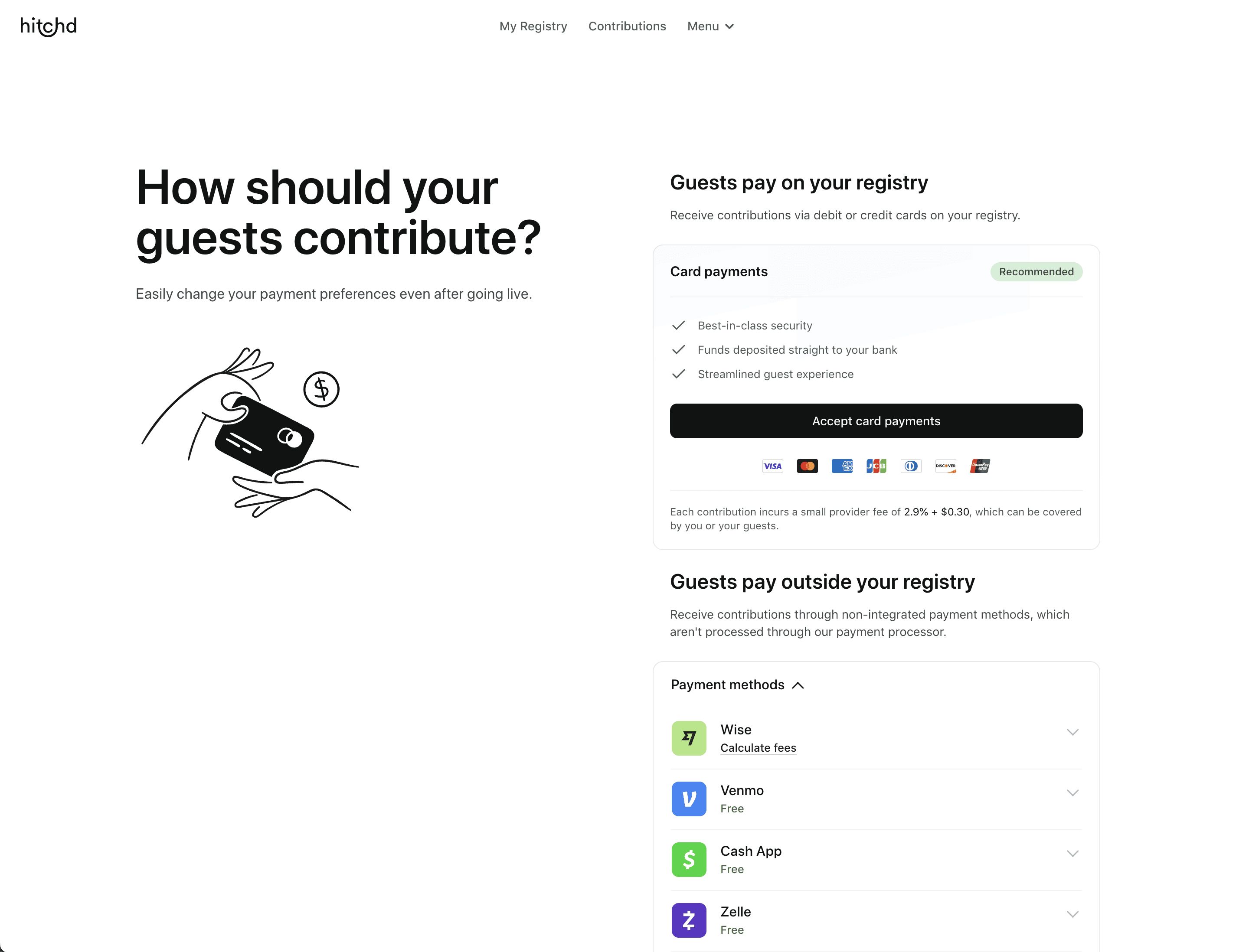 Many Gift Funding Options
With Hitchd, you have many funding options for your honeymoon registry gifts. You can choose from various payment methods to receive contributions from your wedding guests. Whether through credit card payments, PayPal, Venmo, Cash App, Wise, Zelle, Revolut, or even Bitcoin, a payment option will work for you and your guests.
But Hitchd also recognizes that not everyone may be comfortable using credit cards or online payment methods. That's why they also offer other manual options, like cash or cheque contributions, which you can add from your dashboard.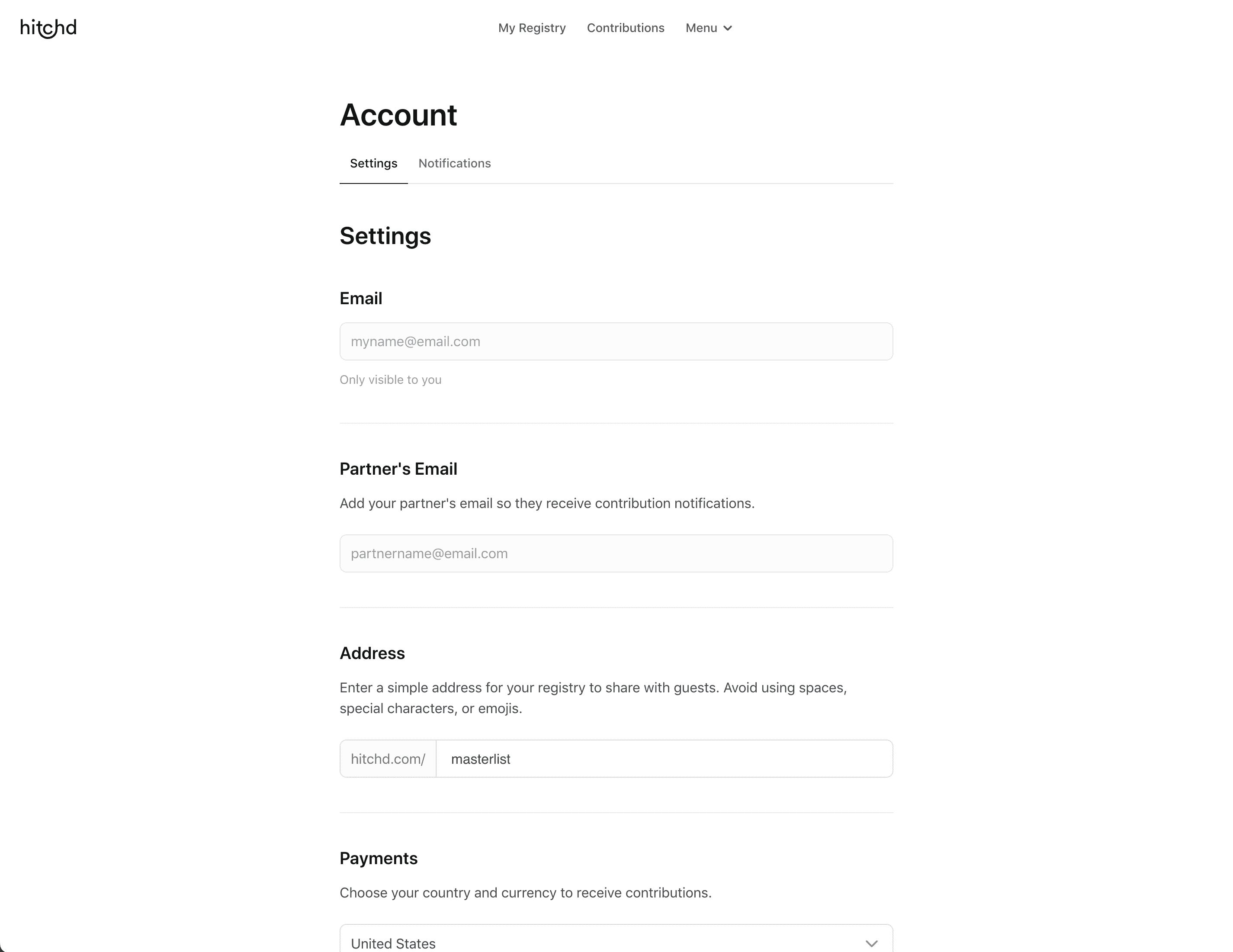 Multiple Email Connections
Easily add multiple email connections to your account. This means you can add your partner's email address in the settings so they can also receive notifications when contributions are made to your honeymoon registry. By adding your partner's email address, they'll be kept in the loop about all the contributions made towards your honeymoon fund.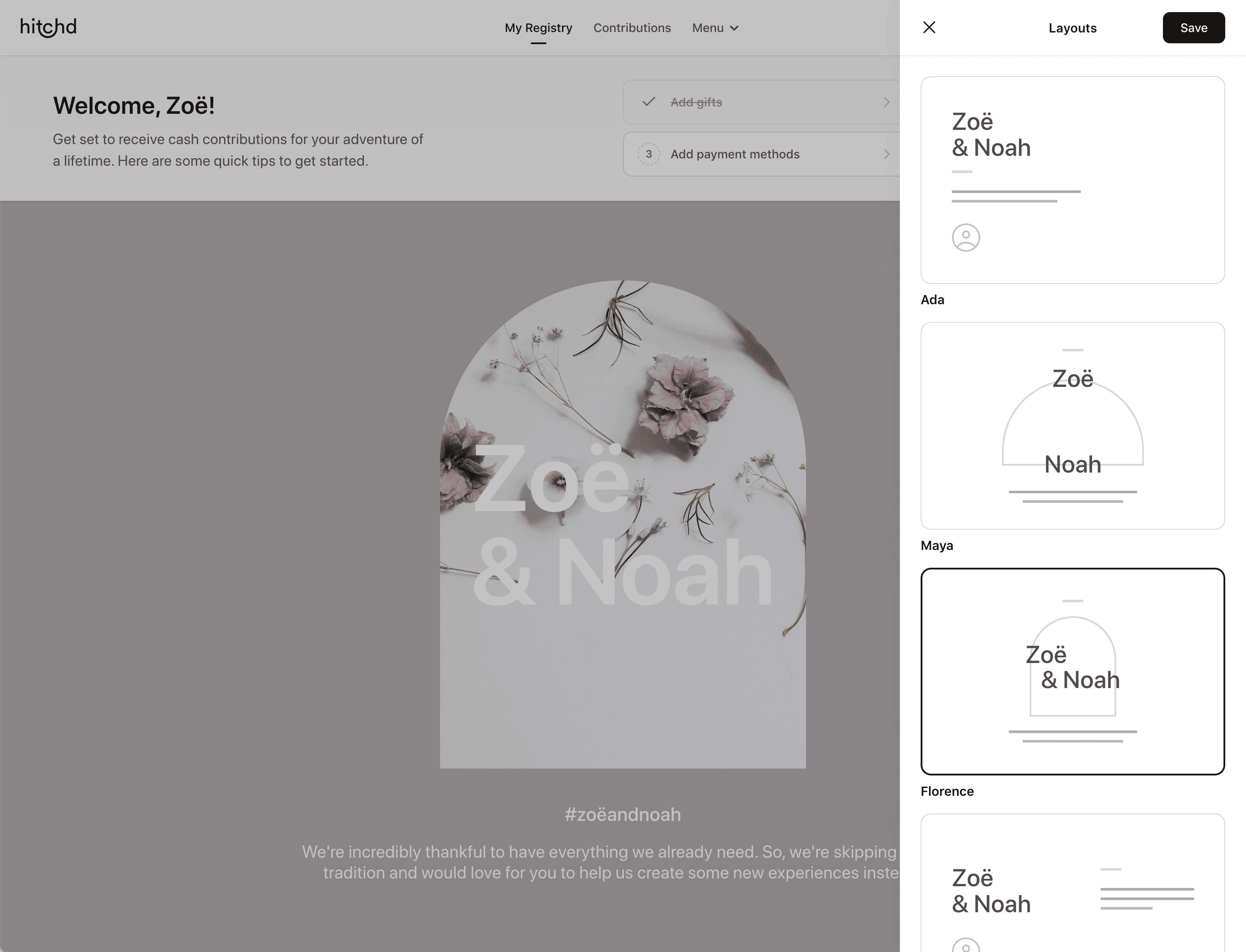 Customize Your Registry Page With Your Honeymoon Destination
Make your honeymoon registry page truly your own with Hitchd's customization features. Choose from various layouts, like Florence, to create a stunning registry page that reflects your unique style. You can upload a header image to make your page more personal for your guests.
Additionally, you can add an introductory message to your registry page using one of the templates or by crafting your own. This will allow you to thank your guests for their support and share your excitement about your upcoming honeymoon.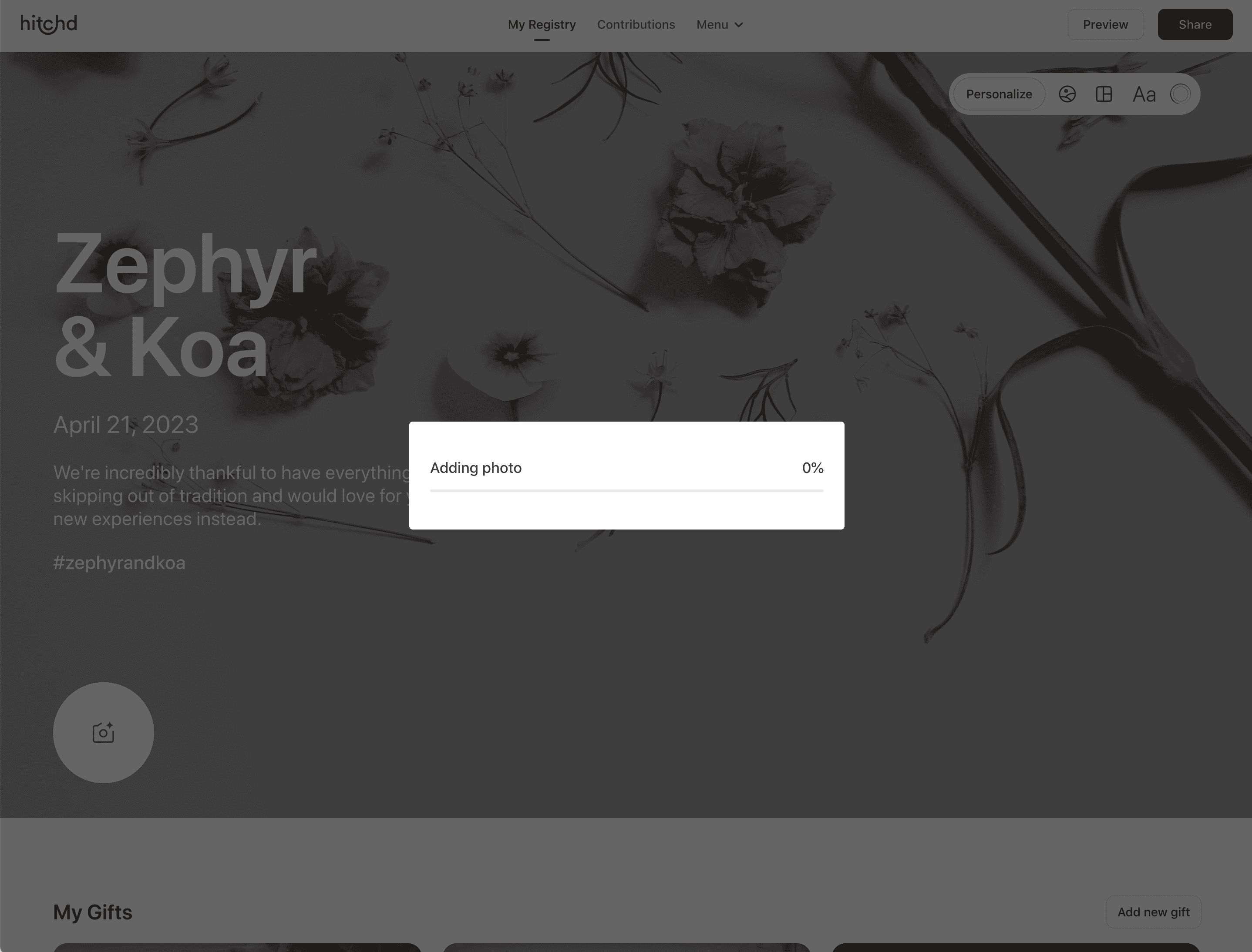 Apply Your Avatars
An avatar is a digital representation of yourself, which you can create by selecting a pre-made image or uploading your own photo. You and your partner can set up avatars to personalize your honeymoon registry. This feature allows you to add a personal touch to your registry page, making it more engaging for your guests. Plus, by setting up your own avatar, you'll be able to differentiate your registry from others and make it more memorable for your guests.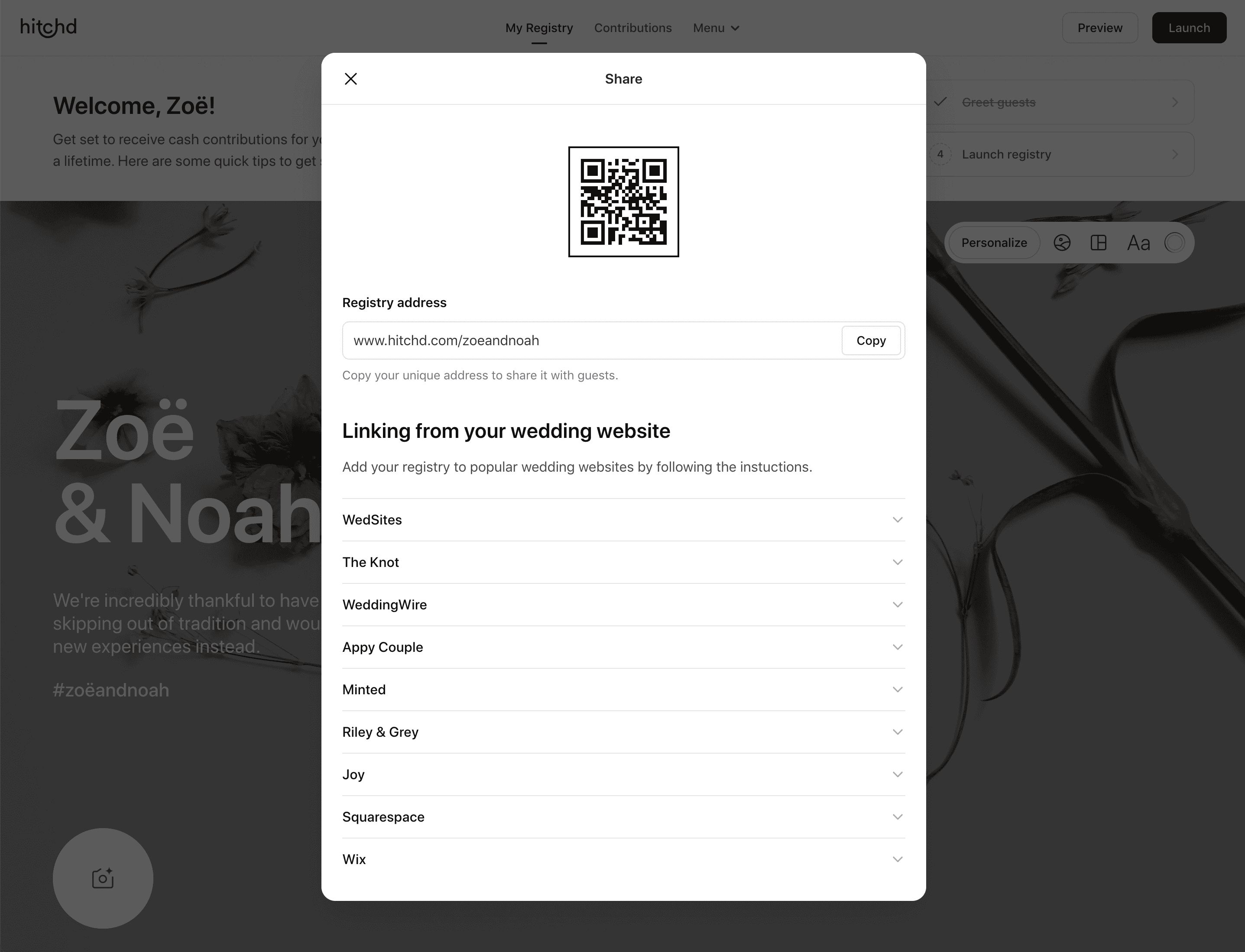 Easy Registry Sharing
Once you've set up your honeymoon registry with Hitchd, sharing it with your guests is a breeze. You can launch the registry and share the link with your guests via email, text, or social media. This allows guests to access your registry and contribute to your honeymoon fund easily.
Hitchd also offers the option to use a generated QR code if needed. A QR code allows guests to scan an image using their smartphone camera to access your registry quickly. This feature makes it easier for your guests to contribute to your honeymoon fund, as they can scan the code with their smartphone and be directed to your registry page. You can place it around your wedding venue and include it on your wedding invites.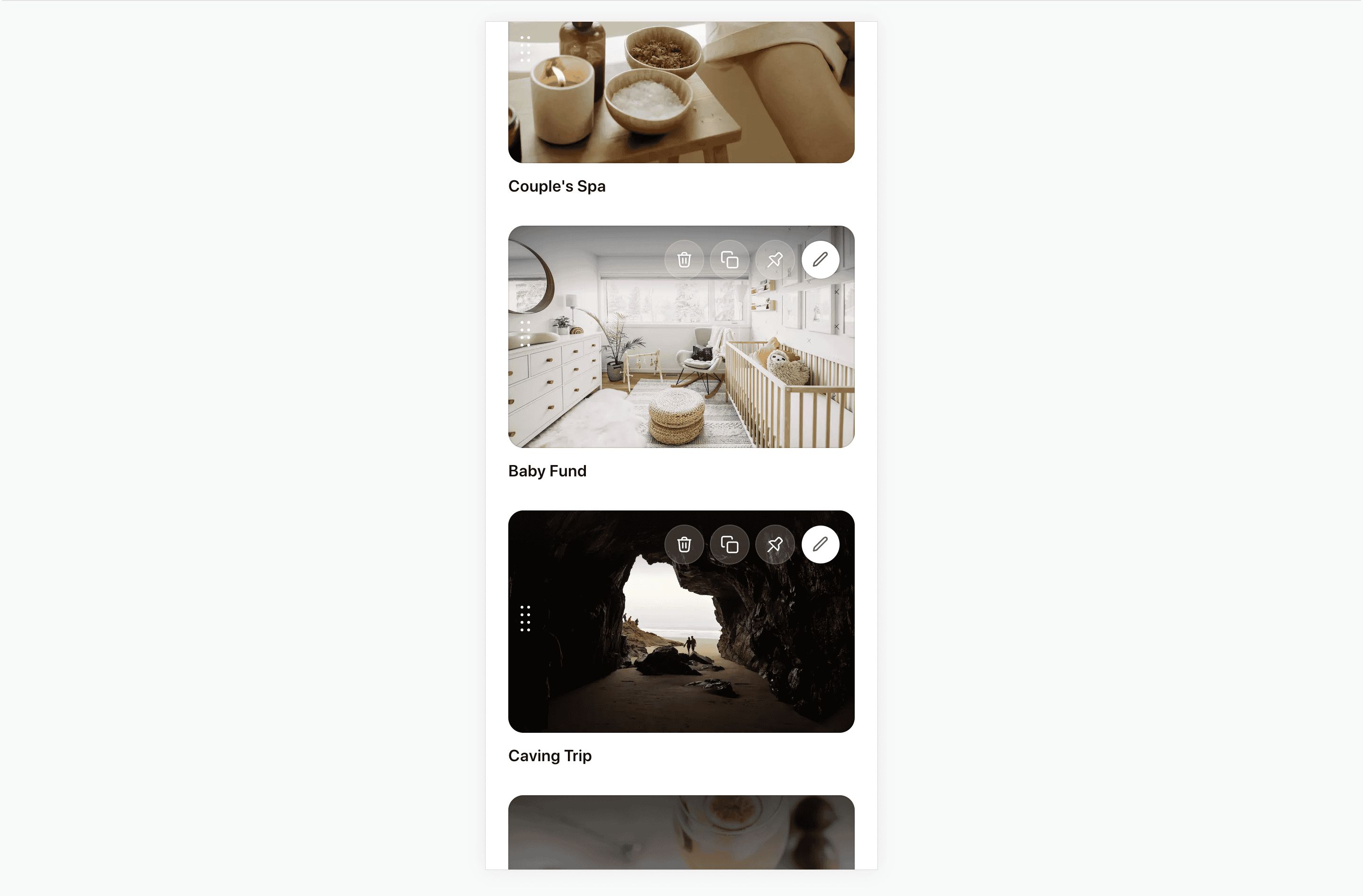 Excellent Mobile Experience
Hitchd is proud to have been voted as having the best mobile user experience for honeymoon registry platforms. This means that our mobile website has been optimized to provide a seamless and intuitive user experience for you and your wedding guests, whether they are accessing our platform on their desktops or on the go from their mobile devices.
We strive to provide a user-friendly experience that makes it easy and enjoyable for many couples to create their honeymoon registry and for guests to contribute to their honeymoon fund. With our focus on mobile optimization and user experience, we are committed to providing the best possible service to help you plan the honeymoon of your dreams.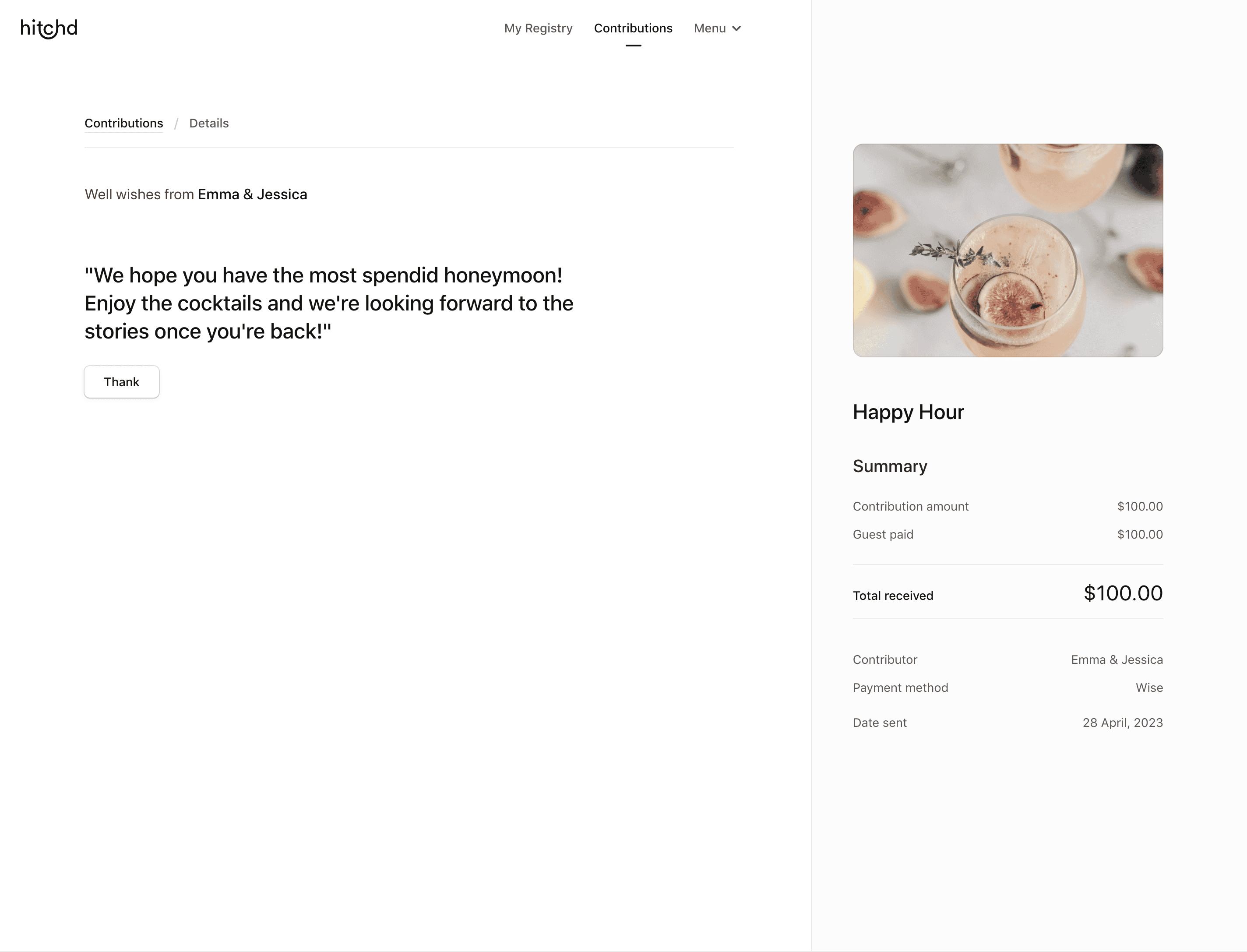 Contribution Tracker
You can keep track of all your contributions in one convenient place. Our contribution tracker lets you see all the contributions made to your honeymoon registry, so you can easily track who has contributed and how much they have given. This feature eliminates the need to manually keep track of contributions or worry about missing any crucial details. You can access the contribution tracker anytime, so you always know where you stand in reaching your honeymoon fund goals.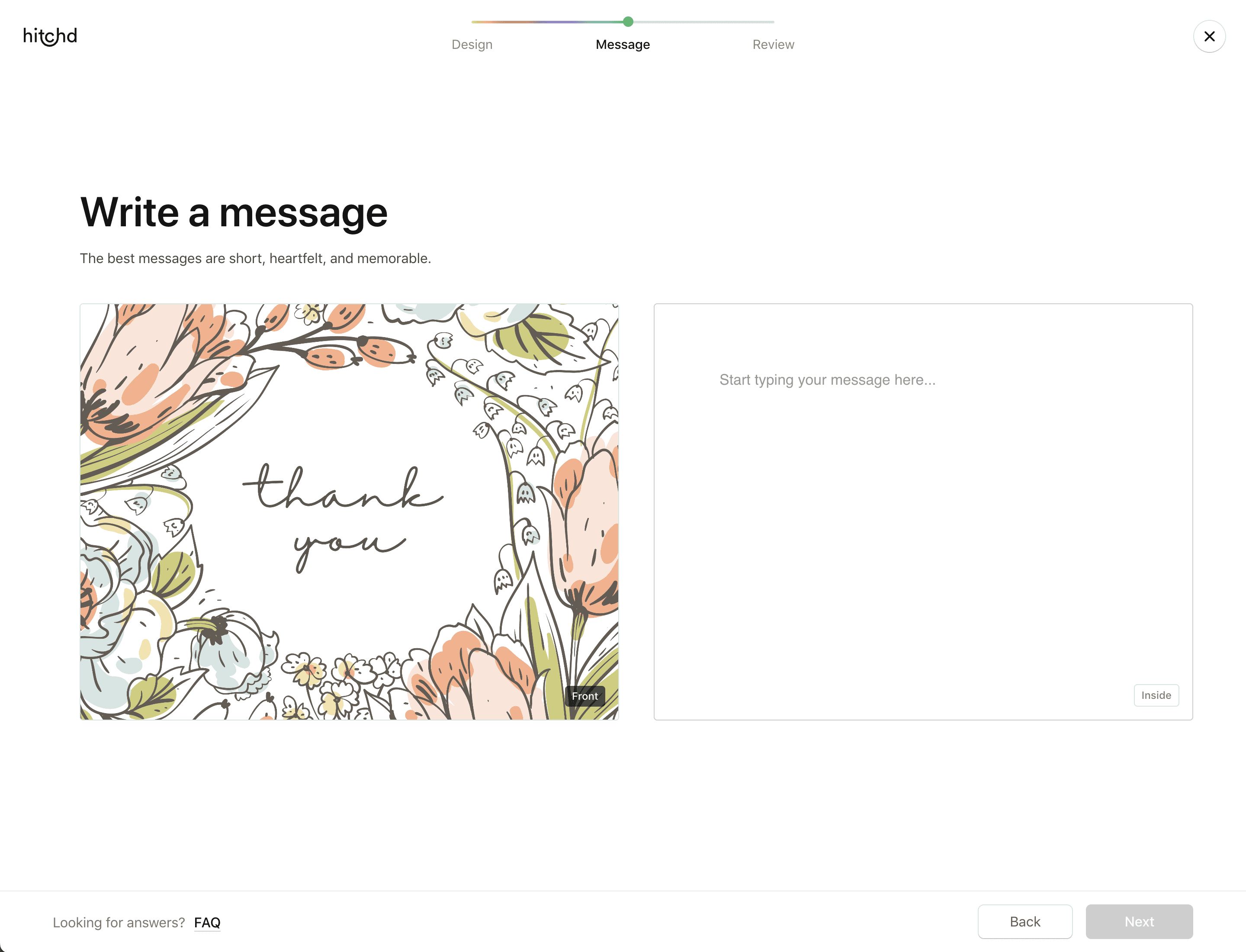 Personalized Thank You Messages
At hitchd, we're thrilled to offer the option of sending personalized thank-you messages to  each guest who contributes to your honeymoon fund. We understand how important it is to express gratitude to your loved ones for their support, so we've made it easy to write a heartfelt note to each guest.
With our platform, you can send physical thank you cards directly to your guests' addresses. This is a thoughtful and personal touch that your guests will appreciate. And they aren't just generic thank you cards; the cards can be personalized to each specific guest.
How To Create Your Hitchd Honeymoon Registry
With Hitchd, starting is easy, and you can create your registry for free. Here are the steps involved in creating your registry, from setting up your profile to sending thank you cards and managing your contributions through the site.
Step 1:First things first, create a profile on Hitchd. Head to the sign-up page and input your information, such as you and your partner's names and the wedding date. It's free to start and a quick process that will take little time.
Step 2: Once you've set up your profile, it's time to choose the best honeymoon destination and create your gift list. Research online and develop a list of gift ideas you want to add to the platform. This can be from an airline ticket, a stay at a luxury hotel, dinner at a fancy restaurant, and even a day trip.
Step 3: Next, you will want to add your gifts to your registry. You can do this once you have set up your profile by clicking on 'Add Gift' on your dashboard. Or, to streamline the process, click the 'Start with 5 popular gifts' to bring up five of our most used gift templates. You can use a template with many things already embedded into the gift or manually make one from scratch.
Step 4: The next step is to select a package that fits your needs. We offer various packages catering to different budgets and wedding sizes, so you're sure to find one that suits you. You can choose from Micro $119 for up to 25 wedding guests, Plus $149 for up to 50 wedding guests, and Ultimate £199 for unlimited guests.
Step 5: After customizing and paying for your registry, it's time to share it with your guests. Hitchd makes it easy to do this through social media, email, and even with their QR code. We recommend that you attach our QR code to your wedding invitations so guests can quickly scan it and look around without having to search.
Step 6: Finally, managing your registry through hitchd is hassle-free. You can easily track gifts received in one place, send thank-you notes to your guests directly through the platform, and make changes to your registry as needed.
Tips & Tricks for Planning Your Dream Honeymoon
We understand that the perfect honeymoon is a unique experience tailored precisely to your desires. With that being said, having been in the industry for many years, we understand the commonalities to consider when you plan your honeymoon. Here is a list of all the things you need to consider when planning a honeymoon to ensure a perfect itinerary with the accommodation options you've always dreamed of.
Start Planning Early
The ideal time frame to start the planning is at least six to nine months in advance. This will give you enough time to research your dream destination, compare prices, and book your flights and hotels at the best rates. The earlier you start planning, the better.
This time frame will allow you to take advantage of credit card sign up bonus options, allowing you to save money on some of your travel costs. Be a points guy and use your sign up bonus from your new credit card toward some of your travel expenses or hotels.
Set a Honeymoon Budget
Before you start planning, setting a budget is essential. Be sure to consider all the expenses, including flights, accommodations, transportation, meals, activities, and other extras. This will help you narrow down your options and avoid overspending.
The days allotted for your vacation might have to be adjusted in order to stay within budget. Thankfully, there are tips for saving some money, even at popular destinations around the world.
Booking in advance can help lower your spend on things like hotels, sightseeing tours, and even your flight. You can also opt to avoid high season for some of the more popular destinations. For example, southern hemisphere vacation plans, like Costa Rica, are more popular during northern hemisphere winters. Consider booking in off season or shoulder season. While you might not get the best weather, you'll still spend your time soaking in some of the best beach views in the world.
Consider Your Interests
Your honeymoon is a time to celebrate your love and enjoy each other's company. So, choosing your honeymoon destinations and activities you both enjoy is essential. Think about your hobbies, interests, and travel styles. Do you prefer fun adventure activities, relaxation on a beach, or cultural experiences? Consider honeymoon destinations that offer what you both want.
Plan for Relaxation
Your honeymoon is a time to rest, unwind and de-stress after all the wedding planning. While it can be tempting to pack your itinerary with activities and excursions, it's essential to plan for some relaxation time too. Consider spending a few days at a spa resort, lounging on a beach, or sightseeing in a picturesque town.
Use a Honeymoon Registry
A honeymoon registry can be a great way to offset the cost of your honeymoon. With Hitchd, you can create a custom honeymoon registry and let your guests contribute to your amazing honeymoon. It's an easy and stress-free way to finance your trip.
Consider the Season in Popular Honeymoon Destinations
Choosing the right season for your honeymoon is crucial as it can significantly impact your overall experience. When you decide on a destination, you must factor in the weather, crowds, and prices. For instance, avoid the rainy season if you're planning a beach vacation. Similarly, if you're considering a ski trip, avoid peak holiday periods with high prices.
Get Travel Insurance
While it may not seem like the most exciting part of honeymoon planning, purchasing trip insurance is vital to protect yourself against unforeseen events. Make sure to select a plan that covers cancellation, medical expenses, and lost or stolen luggage.
Honeymoon Planning Timeline
To simplify the process, we've created a honeymoon planning guide timeline to help you plan your dream honeymoon.
6-12 Months Before Your Honeymoon
The first step is to research each particular destination you're considering. In doing so, make sure you consider factors such as budget, hotel costs, travel time, and the experience you want. Also, take note of any necessary travel documents, like passports or visas. Once you have a shortlist, start budgeting and saving for your trip. Also, remember the best honeymoon destinations are often overlooked places.
Some of the best destination choices for the trip of a lifetime and most popular honeymoon destinations include:
Bali, Indonesia
Maldives
Santorini, Greece
Maui, Hawaii
Paris, France
Bora Bora, French Polynesia
Phuket, Thailand
Amalfi Coast, Italy
Seychelles
Cancun, Mexico.
4-6 Months Before Your Honeymoon
Once you've selected your destination, it's time to book your travel arrangements, including flights, accommodations, and activities. If you're traveling during peak season, booking early is best to secure your preferred options.
2-4 Months Before Your Honeymoon
Your honeymoon is approaching, and it's time to start finalizing your plans. Ensure you have all necessary travel documents and confirm your flight and hotel reservations to avoid any last-minute stress. If you plan to do special activities like a couples' massage or a private dinner, now is the time to book them.
1 Month Before Your Honeymoon
With just a month left until your honeymoon, it's time to start packing! Begin by listing everything you'll need for your trip, including toiletries, clothing, and travel accessories. Also, arrange any necessary pet or house-sitting services if you'll be away for an extended period.
1 Week Before Your Honeymoon
As your departure date approaches, double-check that you have all necessary travel documents packed and ready. Confirm your travel arrangements one final time, and make any last-minute adjustments to your itinerary to ensure a smooth trip.
On Your Honeymoon
Congratulations, you have finally arrived at your honeymoon destination! Take a deep breath and relax as you create special memories with your loved one. Capture these moments by taking plenty of photos and trying new experiences together. Remember that if you face any challenges during your trip, you can always contact your travel agent or hotel staff for assistance.
Planning a honeymoon can be exciting yet stressful, but with this timeline, you can stay organized and ensure everything is handled before you depart.
To Sum It Up
With careful planning and utilizing the right resources, you can make your honeymoon process smoother and more enjoyable. From choosing the perfect destination to creating a budget to selecting the best accommodations and activities, following a timeline can help ensure that your honeymoon is everything you imagined and more.
Using a honeymoon registry website like Hitchd can make the honeymoon planning process even easier and more fun for you and your guests. Remember to relax, enjoy the moment, and create memories that will last a lifetime—happy honeymoon planning from the Hitchd team.
Fund memories, not things.
The modern registry where guests fund your dream honeymoon. It's simple and beautiful.
Start your registry