Weddings are expensive, and most couples have to take out loans or go into debt to pay for their wedding day. So it's no surprise that many couples would appreciate cash gifts instead of traditional gifts.
But how do you tell your wedding guests that you're using a honeymoon fund instead of a traditional wedding registry? In this article, we will explore how to break the news to your wedding guests and go over some honeymoon fund etiquette.
1. Add Your Honeymoon Registry Fund To Your Wedding Invites
Some people think it's tacky to ask for a cash wedding gift by including your honeymoon fund information on your wedding invitations, but we disagree. Here are some reasons why.
It's convenient for your guests
Instead of having to go out and shop for a gift, all your guests have to do is donate online. They know precisely what you want as soon as they see their invite and can look at your registry far in advance.
It's more personal
Including your honeymoon fund in your invite shows that you want to allow your family and friends to contribute to something special. It will enable you to explain why you have chosen to do the wedding gifts this way instead of the traditional method. Try to include how the fund is convenient to your guests and why it means more to you doing things this way rather than receiving physical items.

Times are changing
Times are changing, and many more couples are opting for honeymoon funds rather than traditional registries. Including it in your invite shows that you aren't afraid to break the mold and be yourself.
2. Tell Your Bridal Party
Telling your bridal party, including bridesmaids and groomsmen, is a great opportunity to tell your loved ones about your honeymoon registry. You can let them know you are grateful for them contributing to your big day and request they look at your honeymoon fund instead of buying physical gifts.
3. Add It To Your Wedding Website
Adding your honeymoon fund to your wedding website is a great way to let all your guests know about it. When you create your website, make sure you include a page explaining the purpose of the honeymoon fund and how people can contribute. You'll also want to include information such as where the money will go and what activities you plan to do on your honeymoon.
Including the link, this way is a more subtle way of doing things. However, this can backfire if guests need help finding the linked page. Make sure it's easy for guests to locate and connect directly to your registry fund so they can see their options there and then.
Personalize with Preset Honeymoon Fund Wording Examples
With Hitchd, your fund will look professional and elegant. You don't need specialist computer programming knowledge to get things set up. Hitchd offers a range of templates to suit every style to ensure your fund looks as good or better than your wedding website.
We have a text helper on board to help give you some honeymoon fund wording examples. Honeymoon registry wording is vital to getting the correct message across to your guests.
With Hitchd, you can add a personalized video to each gift or choose content from our high-quality media library. This is unique to Hitchd, and we are the only platform offering video features.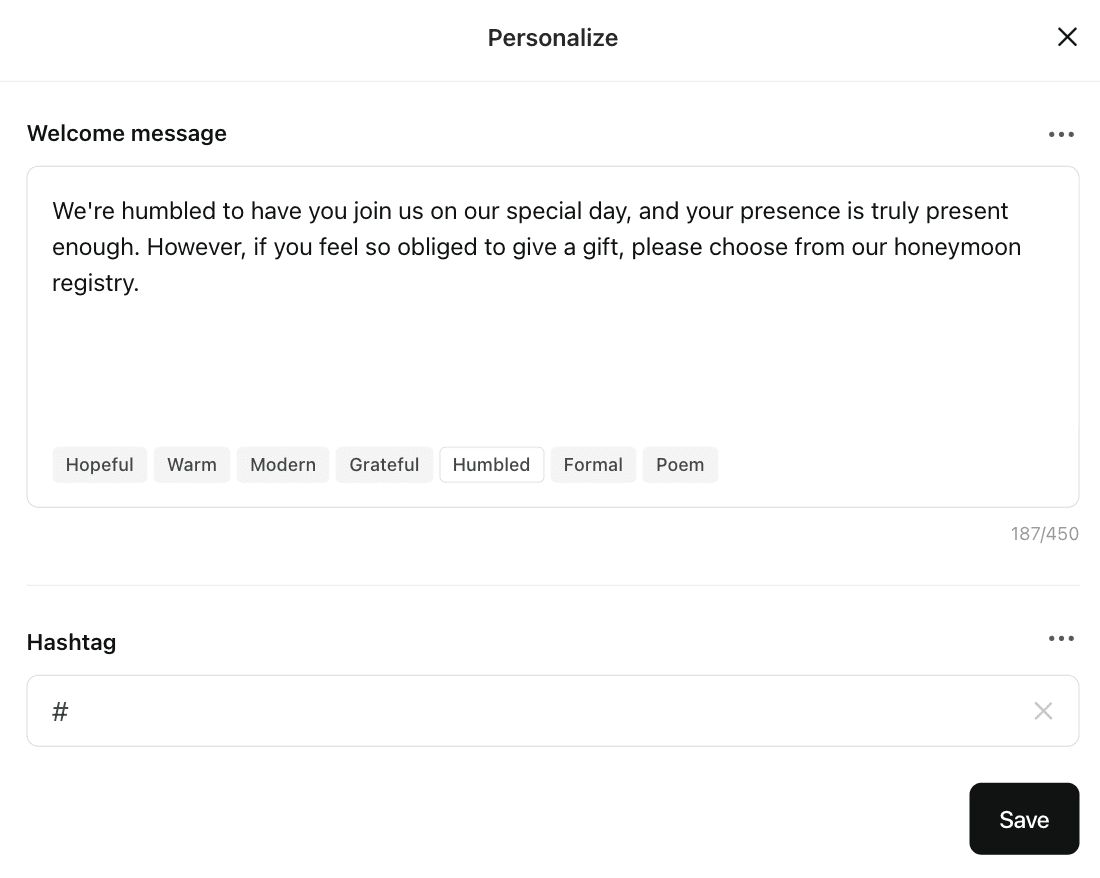 4. Spread the Word on Social Media
Social media is excellent for spreading the word about your honeymoon fund and can even help you get more contributions. Create a post with cute photos of the two of you and explain why you set up a honeymoon fund instead of a traditional registry. Then, in your post, include the link to your honeymoon fund page and encourage people to donate if they want to give a gift.
Using social media is a great way to reach people who may not be as closely connected to you, such as distant relatives and friends of friends. This could help you get more contributions from people who want to show their support but need to know how.
5. Use a Trusted Honeymoon Fund Site
Above all, you want to ensure your wedding guests have a safe and secure place to contribute toward your cash fund. When you choose a website like Hitchd to set up your honeymoon fund, you can take advantage of countless registry benefits.
65% More Donations With Hitchd
When you use Hitchd, research shows that customers get up to 65% more donations than other honeymoon funds! That's because our platform is easy to navigate and allows guests to make instant payments.
Best Mobile Experience
With Hitchd, we have been voted the best mobile user experience in our industry. With our great mobile user experience at Hitchd, you can quickly and easily pull up the honeymoon fund page on your device and let everyone know about it at the time. Everyone else will then be able to donate to the fund using their mobiles.
Custom Thank You Cards
It doesn't stop there, either. Directly through the Hitchd platform, you can send out customized thank you cards to all your contributors. With our selection of templated designs, you can quickly and easily generate a thank you card and mail it out to everyone who donated.
Rather than having to handwrite each card, Hitchd will automate the process and mail them directly to each guest of your choosing. This extra step helps show your appreciation for all the love and support from your family and friends.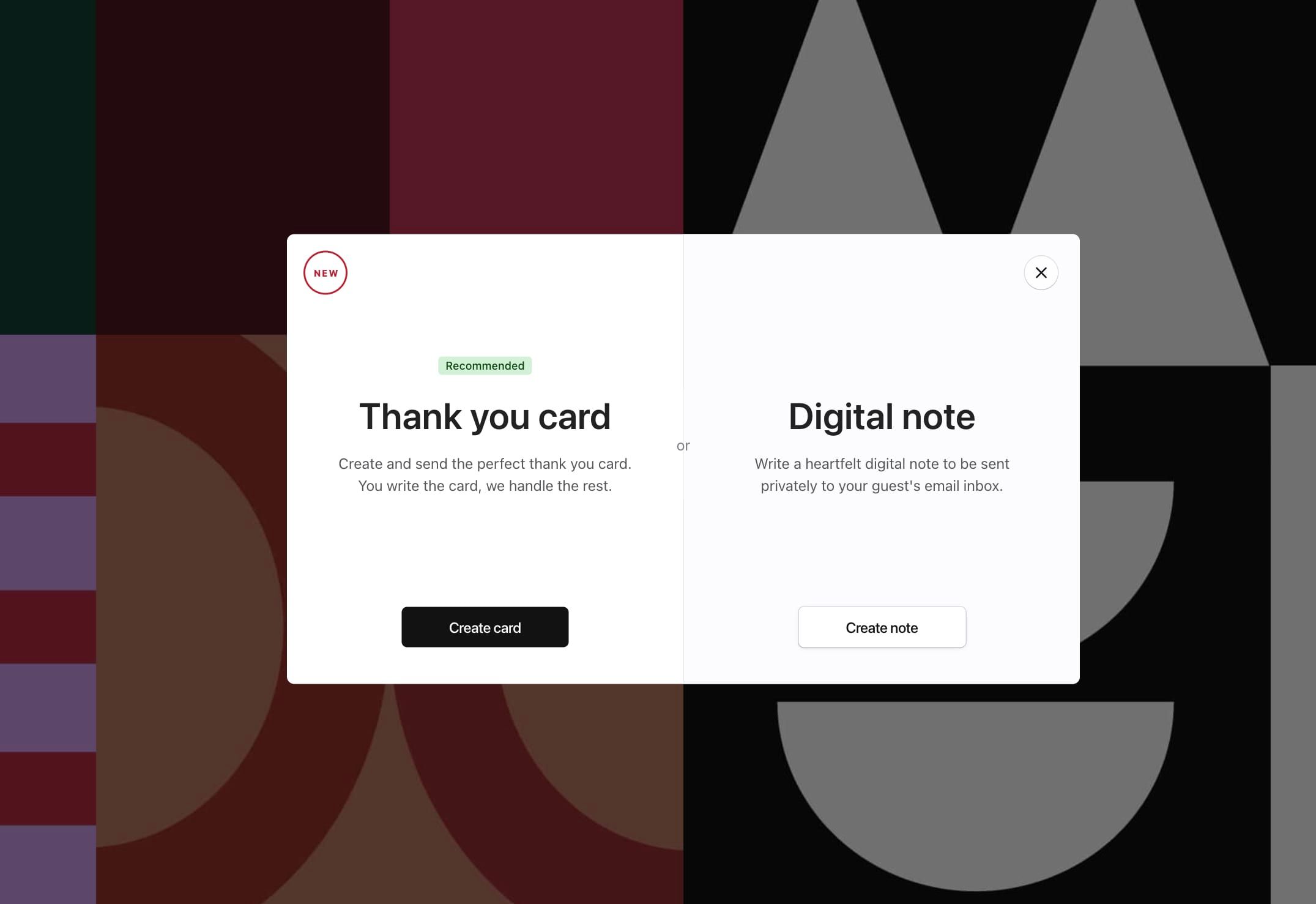 Overall Thoughts
No matter how you tell your family and friends about your honeymoon fund, it's essential to be respectful and not demanding. Explain why this type of registry is unique to you and why you chose to do it this way instead of the traditional method. Be sure to thank all of your guests for their thoughtfulness and generosity, no matter how small their contribution may be.
With the right approach, you can ensure a smooth disclosure of your honeymoon fund and plenty of gifts to make your honeymoon an unforgettable experience. Sign up with Hitchd today to start building the honeymoon registry of your dreams!
Fund memories, not things.
The modern registry where guests fund your dream honeymoon. It's simple and beautiful.
Start your registry