f you recently got engaged (congrats!), you are probably beginning to plan your wedding and wedding registries. With so many wedding registry options, you may wonder why someone would pay for a wedding registry when there are several free options.
As with most things, you get what you pay for (or in the case of free wedding registries, you don't get what you don't pay for!). Most free online wedding registry and honeymoon registry sites have ads and pop-ups. Plus, you often get coerced into using gift cards, instead of receiving straight cash for the wedding gifts and experiences you want to buy.
Decide if you want a traditional registry or honeymoon fund registry
Before you decide if it's worth paying for a wedding registry, consider what type of wedding gifts you and your partner are hoping to receive from your wedding guests, friends, and family.
With a traditional wedding gift registry, you typically choose from existing physical items like bed and bath products, kitchenware like glasses and dishes, and anything else you can find in stores. Guests purchase those items in store or online and have to rely on them being in stock and shipping on time, and then they must spend time wrapping them for your wedding day.
If you're like most couples now, you likely have many of the items you would traditionally register for as gifts on a wedding registry. Many couples today prefer to set up a honeymoon fund or cash gift registry to use the money for experiences or larger purchases like furniture, unique art, or a charity of their choice. Some couples even use the funds from their cash wedding registry to recoup the costs from their wedding day.
How does a cash registry work?
With a cash registry like Hitchd, you and your partner create a fund or multiple funds that allow guests to contribute toward a specific goal or experience. For example, perhaps you and your partner want to get a relaxing massage after you tie the knot. Or perhaps you are all set on gifts and what you really need is a down payment on a home - a cash fund allows guests to help pitch in for that!
What value do I get from a paid wedding registry?
Most free wedding registry websites don't offer live support or the ability to talk to a real person until a problem gets escalated. With Hitchd, our team responds to every question and is online to help you during most of the day.
When you create an account with Hitchd, you will see the difference. Not only do we have 1000s of beautiful, high quality photos, but we provide language and prompts to get you started on telling your love story.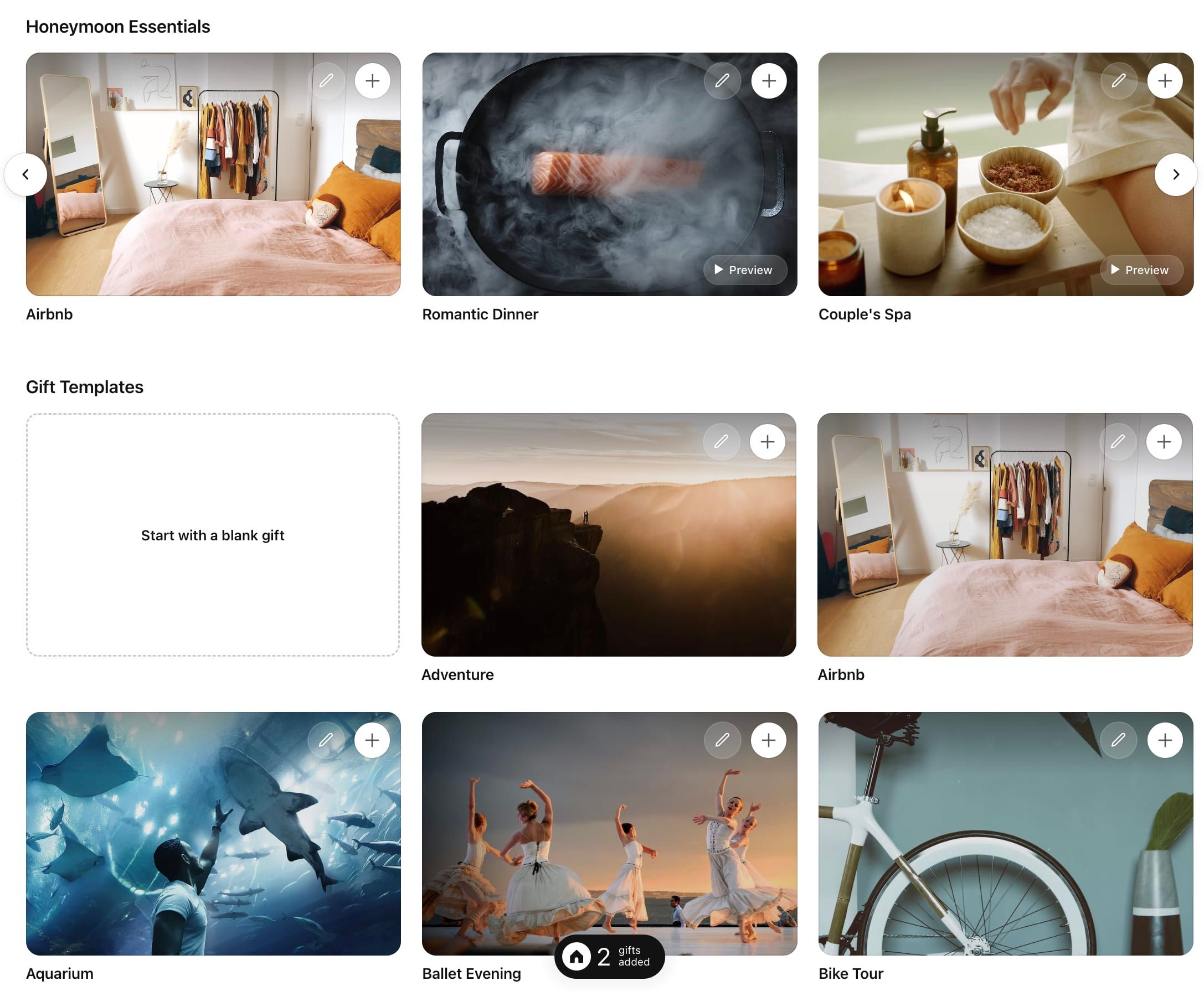 How does Hitchd differ from other wedding registries?
Hitchd isn't like the other honeymoon registry sites. With Hitchd,
You pay one flat fee.
Get a beautiful, customized wedding registry for one flat fee, starting at $99. With us, there are no surprises or** hidden fees** for you or your guests. You'll notice that other online "free" registries charge a percentage fee on every guest contribution or gift and a transaction fee to their guests.
Guests can use numerous payment methods.
Guests love the mobile-friendly convenience of Hitchd, and the fact that they can pay with PayPal, Venmo, Cash App, or straight from their bank account. Of course, we accept credit cards as well, and keep the credit card fees low (1.4-2.9%). There's no minimum spend amount and guests can contribute together to provide couples with larger funds for big purchases, like airfare or a few nights in a hotel, for example.
We never make a dollar on wedding guest contributions.
Sending thank you notes has never been easier
You can send thank you notes to guests in real-time or include photos from a trip or experience to show them how their contribution helped them celebrate as newlyweds. Hitchd even allows you to send hard-copy thank you cards with a few clicks of a mouse before or after you tie the knot.
We don't use ads or distracting pop ups.
We've all been on free wedding registry or free honeymoon fund sites that make for a poor user experience, especially on mobile. You try to navigate around the site to find the gifts that your friends registered for, but a pop up keeps trying to lure you to create an account.
Hitchd is an ad-free wedding registry site, and we don't ask your guests to create an account. Our goal is for your wedding guests, friends and family to be inspired by your love story and want to give you the type of wedding gift you and your partner will love and remember for life.
What type of wedding gift can I register for with Hitchd?
The sky really is the limit when it comes to setting up your cash wedding registry. This is a great time for you and your partner to talk about your goals when you get married. Do you need to spend some quality time together to make up for the business of wedding planning? Do you need a new bed or mattress to catch up on some much needed sleep after the big day? Or do you just need to pay down some debt or save for the future?
With a cash wedding registry, there's a gift idea for everyone and you can offer a variety of wedding gifts and experience to fit any budget.
Here are a few ideas to get you started:
Down payment for a home or car
Honeymoon (with the option to split it up between various experiences and travel expenses).
Staycation
Wine tasting
Massages
Art
Charity
Furniture
Home remodeling
Savings
Paying down credit cards or wedding party costs from your big day
A gift card from your favorite local store to use for future
How does etiquette differ with a cash registry?
Some couples are hesitant to start a cash registry or honeymoon fund because they feel like it may come across as tacky. Older generations may prefer to give shower and wedding gifts in the form of physical gifts, cash or gift cards, but that doesn't align with what most couples prefer these days as gifts.
There are a few tips to keep in mind when it comes to etiquette, so that you get the cash or gifts you would like, while respecting your wedding guests and wedding party.
Speak from the heart. Make sure your cash registry or any online wedding registry allows you to customize your story, offer gifts at various budget levels, add personal photos, and explain why the funds you create mean a lot to you as a couple. It's never recommended to ask for gifts or money on your invitation, but you can include a link to your wedding registry or cash registry on the invitation so that guests can choose to visit your site and make a wedding gift purchase toward the fund that fits their budget.
Send thank you notes in a timely manner. We get it, after the wedding is over you probably want to just BREATHE and relax. Take a minute to soak in married life, enjoy some time together and then get to thankin'. While sending thank you notes can be time consuming, it's absolutely the right thing to do and your guests appreciate the acknowledgment. With Hitchd, you can send Thank You notes any time after someone contributes to your cash fund, so you won't need to wait until after the wedding when they all pile up. The same thank you etiquette applies to a cash fund as etiquette for a wedding gift, money or gift card.
Ask friends and family to spread the word. If you have an Aunt or grandmother who prefers to gift a physical gift or traditional wedding gift, request that your mom, sister, brother, or another friend or relative to share how they're contributing to your cash registry and why they feel it's such a great idea. People like being a part of the crowd, and may be more reassured knowing that other people are joining in on your wish of a honeymoon fund or cash wedding registry.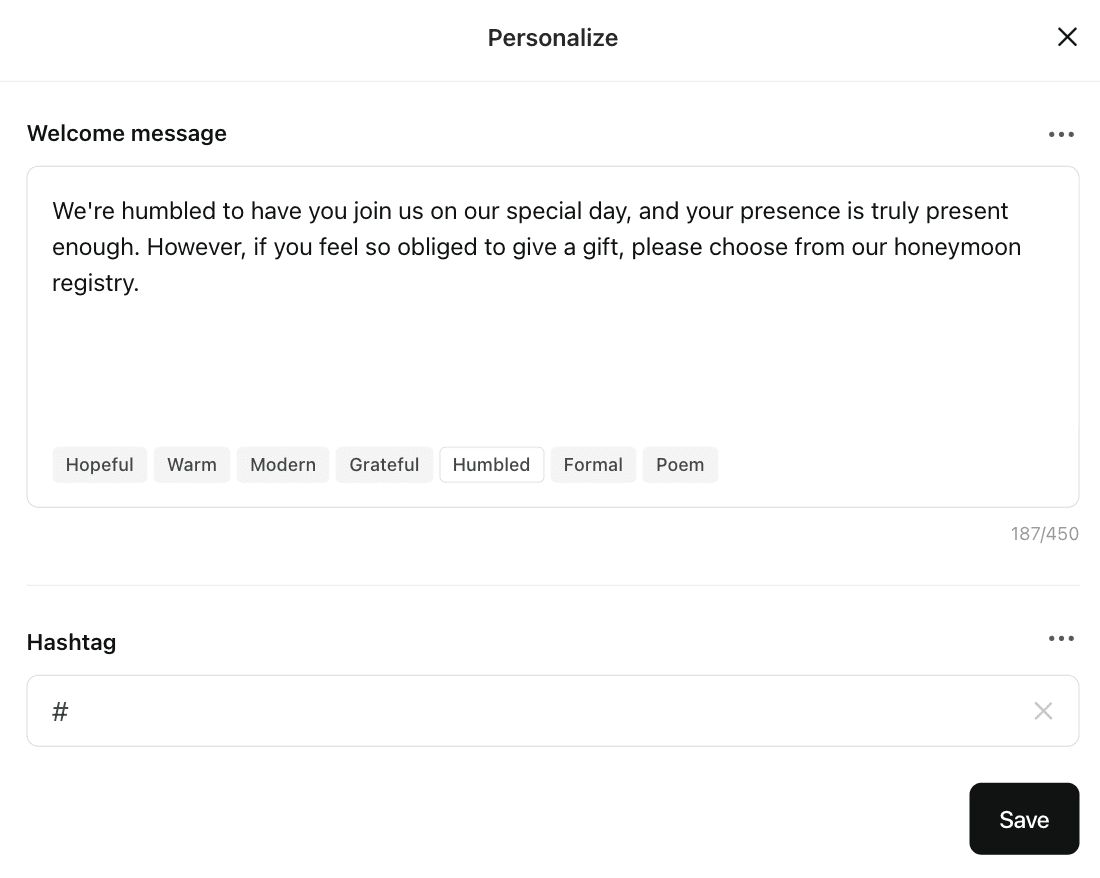 Hitchd - the #1 way to fund your married life
Hitchd is a modern honeymoon registry that helps you fund your wedding shower, wedding day, dream honeymoon and so much more. Think of us as your very own wishing well, dream board, large gift fund, and travel planner, all rolled into one beautiful online experience.
Try it for free today.
Fund memories, not things.
The modern registry where guests fund your dream honeymoon. It's simple and beautiful.
Start your registry