If you and your partner have ever sat down to build a wedding registry only to find yourselves scratching your heads trying to thing of what to add, know that you're not alone. Many of today's modern couples run into this problem when they build their wedding registries: They already have all of the home basics, and they don't need to replace them.
So then what else do you add to your wedding registry? Here are 10 gifts that will upgrade your wedding registry and make starting your lives out together much more fun.
Bamboo sheet set
Have you ever wandered into the bedding aisle and wondered why some sheet sets are so much more expensive than others? With so many affordable options, why would anyone opt for sheets that are so much more expensive?
But have you ever slept in a bed with bamboo sheets?
Feel luxurious every night with this bamboo sheet set gracing your bed. Not only are these sheets incredibly soft, but they're also more breathable than cotton sheets, which will come in handy in the summer.
Stand mixer attachments
It's wildly common to see a stand mixer on anyone's registry, and guests love to give it as a present. They like to hope you'll think of them when you're baking cookies with your future family one day.
Then what do you do when you already have the mixer? Ask for attachments instead. The Kitchen Aid stand mixers, for example, have a number of different attachments, such as food processors, pasta makers and even meat grinders.
Your honeymoon
Can you really put a whole honeymoon on your wedding registry? How does that even work?
With a honeymoon registry from Hitchd, you can build a registry made up of all the expenses and activities that come along with a honeymoon. Instead of asking for new towels, ask for a spa package in your destination city so you two can relax in style. Or pick out a few nice restaurants and ask for guests to send you two out on a romantic dinner date.
The great thing about building your own honeymoon registry is that you won't have any limits as to what you can ask for. And your guests will love sending you two off on your grand adventures together. Just make sure you thank them and tell them all about your experience when you get home.
Local memberships
You may have lived in your hometown for years, but when was the last time you visited one of your local museums or traditionally tourist attractions? Maybe you and your partner would love the chance to visit museums more regularly or your family would like to take advantage of all the cool year-round happenings at the children's museum.
But how do you add memberships to your wedding registry? After all, there's no museum gift card option at Target or Bed, Bath and Beyond. If you're building a wedding registry through Hitchd, then you can add anything you can think of to your registry, include memberships and passes to local museums, aquariums and other fun things to do. Just add it as an experience gift and set the amount.
Compost bin and starter kit
You may have all the home basics, but with your wedding registry, you have the unique chance to improve aspects of your home that are usually either out of your budget or too time consuming to consider.
If you're passionate about helping the earth, lowering your carbon footprint and giving your houseplants the very best soil, then it might be time to try composting. Although some starter kits might be too expensive to fit into your monthly budget, they would make great gifts for your registry. Do your research and find a starter kit that meets your needs.
Luggage set
Like sheet sets, luggage sets come in a wide variet of price points, and if you have a mid-priced suitcase, then it probably works just fine. But have you ever checked out some of the more expensive luggage sets and what comes with them? There's a reason why they're a favorite gift on wedding registries.
Not only is it nice to have a matching set with multiple sizes, but many carry-on suitcases come with cool features like portable chargers and are made of light-weight yet hardy materials that make them easy to move and protect your personals. If you plan on taking that dream honeymoon, adding a luggage set assures you'll be travelling in style and gives guests who prefer gifting physical items something unique to give you.
Local classes
Have you and your partner ever wanted to learn a new skill together? Learning something new together can be a bonding experience and it will help you create fun memories together. Instead of spending another night on the couch, why not learn to cook a new cuisine or special dish or try your hand at learning to surf while you're on your honeymoon? Or even become fluent in a new language?
Think of one or two skills you two would love to pick up and add the class to your Hitchd honeymoon registry. The generous guest who gives this gift won't have to book the course for you and choose the times and dates. They simply pay for the gift through Hitchd, and once you receive the money, you can set up the class for yourself.
Choosing local classes and memberships also helps your community, by the way. Instead of sending money to big-box stores, you keep it in your local economy and help businesses around you grow and thrive.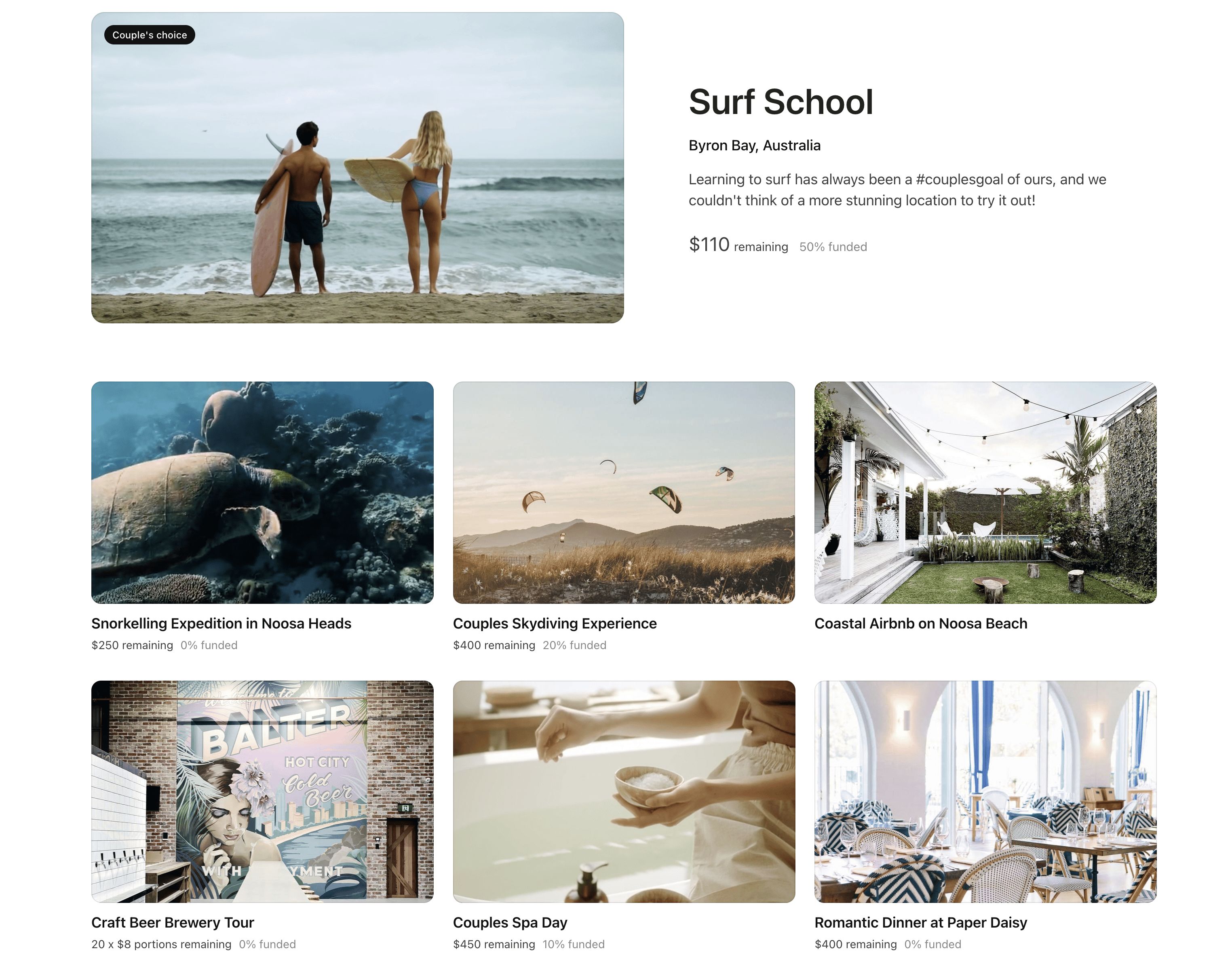 Holiday decor
Okay, you have all of the home goods basic down pat for everyday use, but do you have any decor to make your home look more festive around your favorite holidays?
Couples often skip or overlook holiday decor because it isn't always a priority when it comes to home goods. Many couples would rather have that nice set of pots and pans or towels instead of Halloween or spring decorations. But holiday decor can brighten up your space and help you look forward to the changing seasons.
So start looking for decor that will be meaningful to you and replace the decor that's second hand or from your uni days. If you celebrate Christmas, for example, then you might ask for a bigger pre-lit tree that will fit your space and accommodate all of your ornaments.
Knife set
A nice set of knives can be found for a reasonable price at any big-box store, but if you love to cook, why not splurge on a fancy set? If your guests know about your culinary skills, then they'll want to help you sharpen up.
If you don't want to add a full set (some of the most expensive kitchen knife sets can top out at $2,000) pick out two or three knives that you use the most often.
Charity fund
For those couples who truly have everything, a charity fund can be a cool way to turn your happy day into a fun opportunity to raise money for those who need it most. Choose a charity that is meaningful to the two of you and ask all guests to contribute to your charity fund in lieu of a gift.
If you're using Hitchd, then you can easily turn your cash fund into a charity fund. Just make sure you choose a day for the donation, add it to the charity fund description and follow through with the donation on the chosen day. That will make all your guests feel good about the gift.
Your wedding registry shouldn't be limited to what's available at a big-box store. Couples who use Hitchd can add almost anything they can think of, and they can design registries that feel meaningful and welcoming to guests.
Ready to get started with Hitchd? Here's how to do it.
Fund memories, not things.
The modern registry where guests fund your dream honeymoon. It's simple and beautiful.
Start your registry