Your wedding registry is an essential part of your wedding planning process. It's where you can share your gift preferences with your guests and make their gift-giving experience a breeze. If you're like many of our users and considering using Hitchd for your registry and have a wedding website on The Knot, you're in luck! In this guide, we'll walk you through the process of seamlessly integrating your Hitchd wedding registry into your The Knot wedding website.
Why Would I Want to Add a Hitchd Registry to My Knot Wedding Website?
You might be wondering why so many of Knot users are adding a Hitchd registry to their wedding website. Hitchd is renowned for offering the best guest and couple experience in the wedding registry industry. We have designed it to make the entire gifting process not only convenient but also highly personalized. Unlike traditional cash contributions that can sometimes feel awkward, Hitchd adds a personal touch, ensuring that your guests feel connected to the meaningful experiences and big life-changing gifts you value, whether it's saving up for a deposit on your first home or embarking on an unforgettable adventure. But don't just take our word for it; check out the reviews on Trustpilot at [Hitchd Reviews](https://www.trustpilot.com/review/hitchd.com) to see first hand what couples who have used Hitchd for their wedding have to say. Their experiences speak volumes about why Hitchd is the perfect choice for modern couples and people are going out of their way to add a Hitchd honeymoon registry to their Knot wedding website.
Setting Up Your Hitchd Registry
Before you can integrate your Hitchd registry with your The Knot wedding website, you need to create your Hitchd registry. Here's how:
Sign Up: Start by visiting the Hitchd website and signing up for an account. It's a straightforward process that only takes a few minutes.
Select Gifts or Cash Funds: Hitchd offers a range of options, from traditional gifts to cash funds for experiences or your honeymoon. Choose the ones that best suit your preferences.
Customize Your Registry: Personalize your registry by adding a unique title, cover photo, and a heartfelt message to your guests.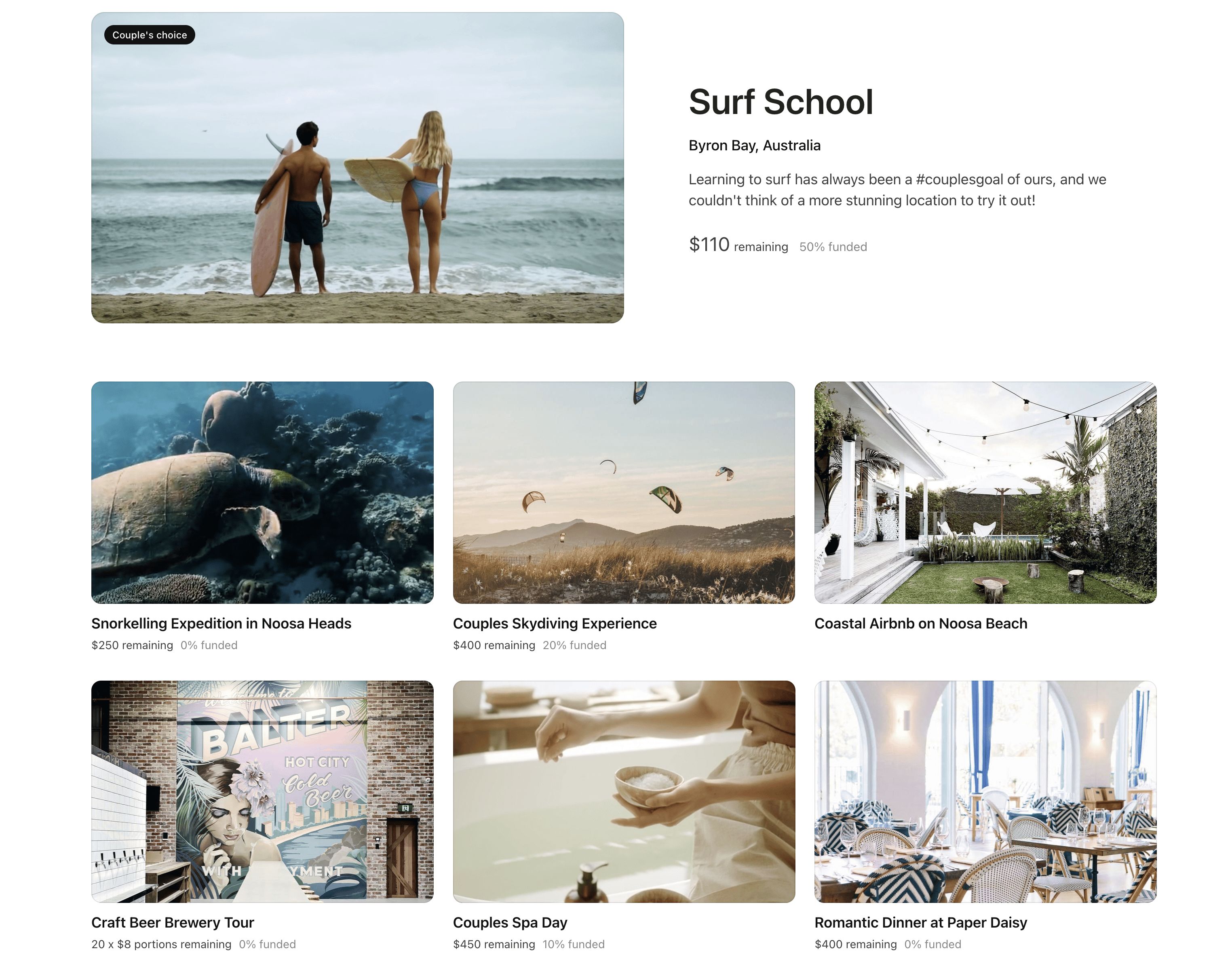 Creating Your The Knot Wedding Website
If you haven't already set up your wedding website on The Knot, follow these steps:
Sign Up: Visit The Knot's website and sign up for a free account if you don't have one already.
Choose a Template: Select a website template that matches your wedding style and theme.
Customize Your Website: Add essential details about your wedding, such as the date, venue, and a brief story about your love journey.
Integrating Hitchd with The Knot
Now, let's integrate your Hitchd registry with your The Knot wedding website:
Log In to The Knot: Go to The Knot's website and log in to your account.

Access Your Wedding Website: From your dashboard, access your wedding website.

Edit Your Registry Page: Look for the "Registry" or "Gifts" section on your website editor. Click on it to start editing. Or simply navigate to this link

Add another Store: Navigate to the section "Option two / Link your store Registries" and select "+ Add another Store" from the Store list.

Add Your Hitchd Registry: In the registry section, you'll see an option to add your registry. Select Hitchd from the list of registry providers. Paste the link to your Hitchd registry in the designated field. This link can be found on your Hitchd registry dashboard.
Troubleshooting and FAQs
Common Questions:
Will My Guests Find It? Yes, your Hitchd registry will be prominently displayed on your The Knot wedding website, making it easy for guests to access.
Can I Customize It? Absolutely! You can customize the registry display on your website to match your theme and style.
Personalization and Tips
To make your Hitchd registry and The Knot wedding website even more appealing:
Write a heartfelt message to your guests, explaining the importance of their presence at your wedding. Explaining that gifting is optional but if they wish to contribute that you are skipping out of tradition and would love to have them help you create new experiences instead.
Add photos and stories to your website to give guests a glimpse into your love story.
Explore the extensive gift template collection to quickly add popular registry must have gifts
Add multiple payment methods - letting your guests decide which payment method is most convenient for them.
Integrating your Hitchd wedding registry into your The Knot wedding website is a simple and effective way to streamline your wedding planning. By following these steps and personalizing your registry and website, you'll create a seamless experience for your guests and ensure that your wedding day is truly special.
Ready to get started? Sign up for Hitchd and create your registry today, then head over to The Knot to set up your wedding website. Your guests will appreciate the convenience, and you'll have a beautiful wedding website that showcases your love story and registry.
Fund memories, not things.
The modern registry where guests fund your dream honeymoon. It's simple and beautiful.
Start your registry