Couples today are changing the way weddings happen by ditching many age-old traditions. And one that has definitely seen a change is wedding registries. Because many couples already live together, there is no need to create a traditional registry filled with linens, fancy china, and picture frames. Instead, couples want experiences, and creating a honeymoon fund registry is the best way to get them.
Honeymoon Fund Registry Reviews
It used to be taboo to ask for money, but today things have changed. With the arrival of honeymoon registry sites, it has become easy and tasteful to request cash as your wedding gift. But a quick Google search reveals that quite a few companies offer this service, so how do you know which one is right for you?
The best way to find out which honeymoon registry or cash fund is right for you is by reading reviews from couples who have used the services. Reviews will give you an idea of what others thought of the company and its customer service. But we searched the internet and found that there are only a few places to go to see honeymoon registry reviews, so to help you out, we're going to review them for you.
Ultimately, the best way to choose honeymoon registry sites is to research and pick the one that feels right for you. With so many options, one is bound to fit your style and budget perfectly!
In-Depth Reviews Of The Top Honeymoon Fund Registries
There is no doubt that you want to plan the best honeymoon, and depending on the location you select, it can be expensive. So, we love the idea of having your wedding guests contribute and help fund your post-wedding getaway. Cash funds are a wonderful alternative to the traditional wedding registry.
Hitchd
Hitchd was created exclusively to offer the most lovely and straightforward honeymoon registry that can fit any wedding style or aesthetic, unlike other wedding registries where honeymoon and cash funds are frequently an afterthought. As a result, it outperforms many other honeymoon-only registry choices in terms of style and usefulness, especially on mobile. User experience is important to Hitchd, so we put a lot into designing a platform that's user-friendly, and as a result, we were voted the best mobile experience by refinery29.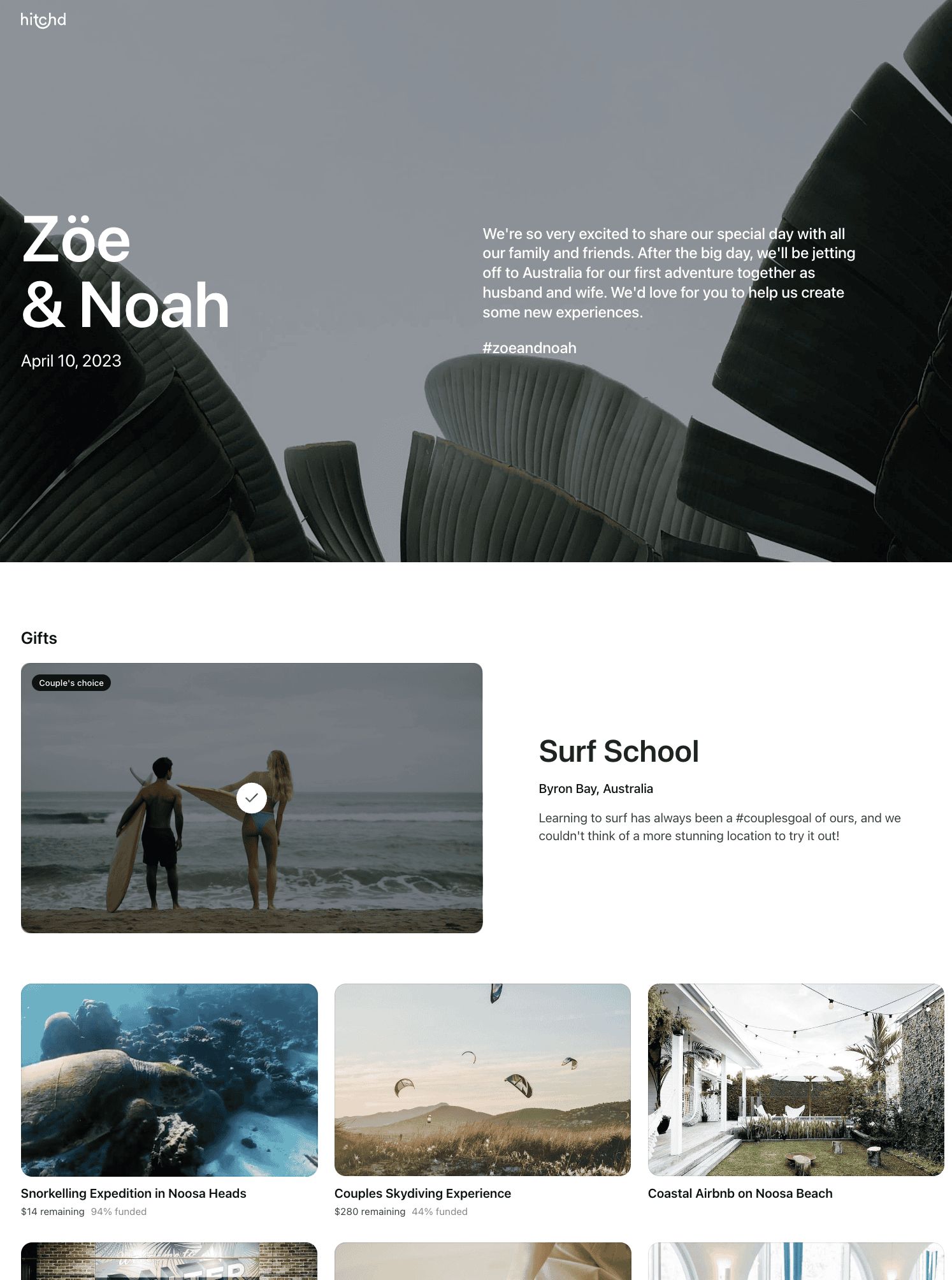 What's really cool about the Hitchd user experience is they have gift and video templates that are pre-populated with great ideas for experiences. This makes it super easy for you to build a personalized experience-based honeymoon registry.
And one of the features that couples rave about is the Registry intro text helper. This section in the header area of your registry page introduces and welcomes your guests. What do couples love about it? There are pre-populated sample text paragraphs that you can use, so you don't have to try to come up with them yourself.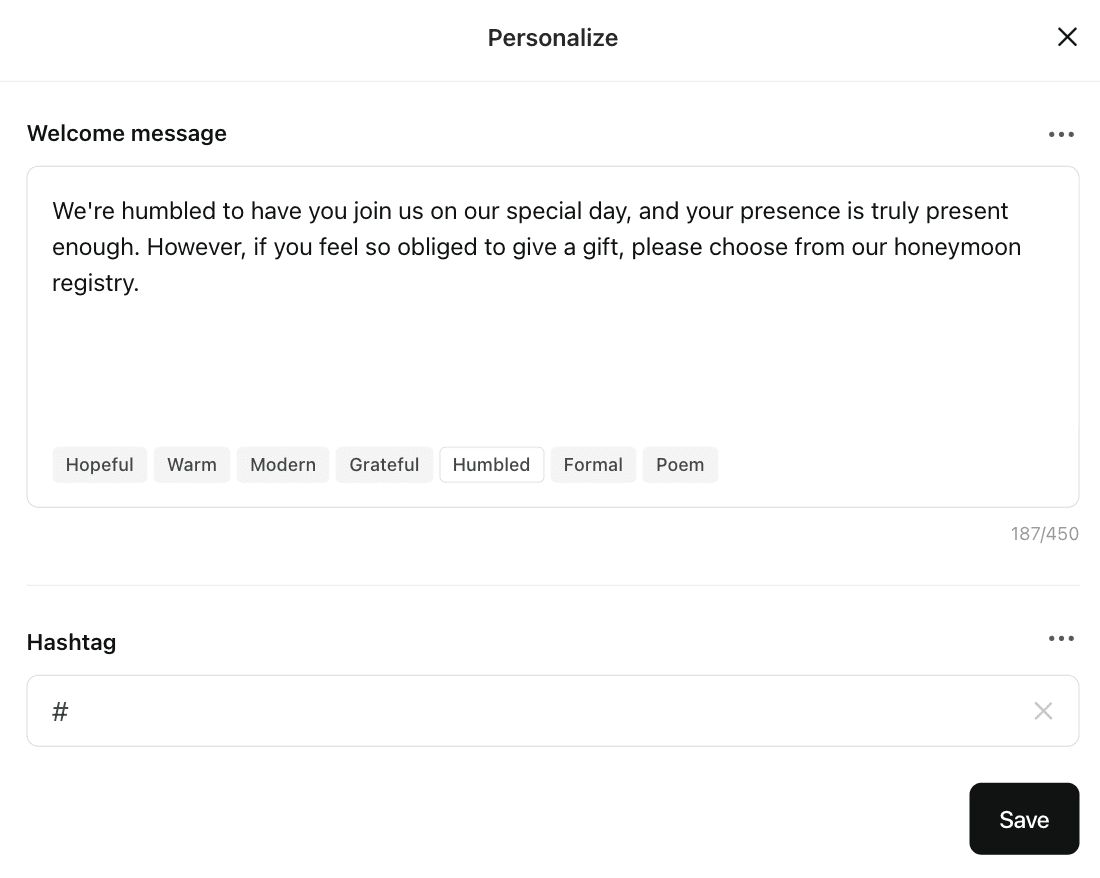 Another great reason to use the Hitchd honeymoon cash website is that couples who used Hitchd in 2021 received gifts worth $198 on average, which is 65% more than the $120 industry average. Pretty awesome, right?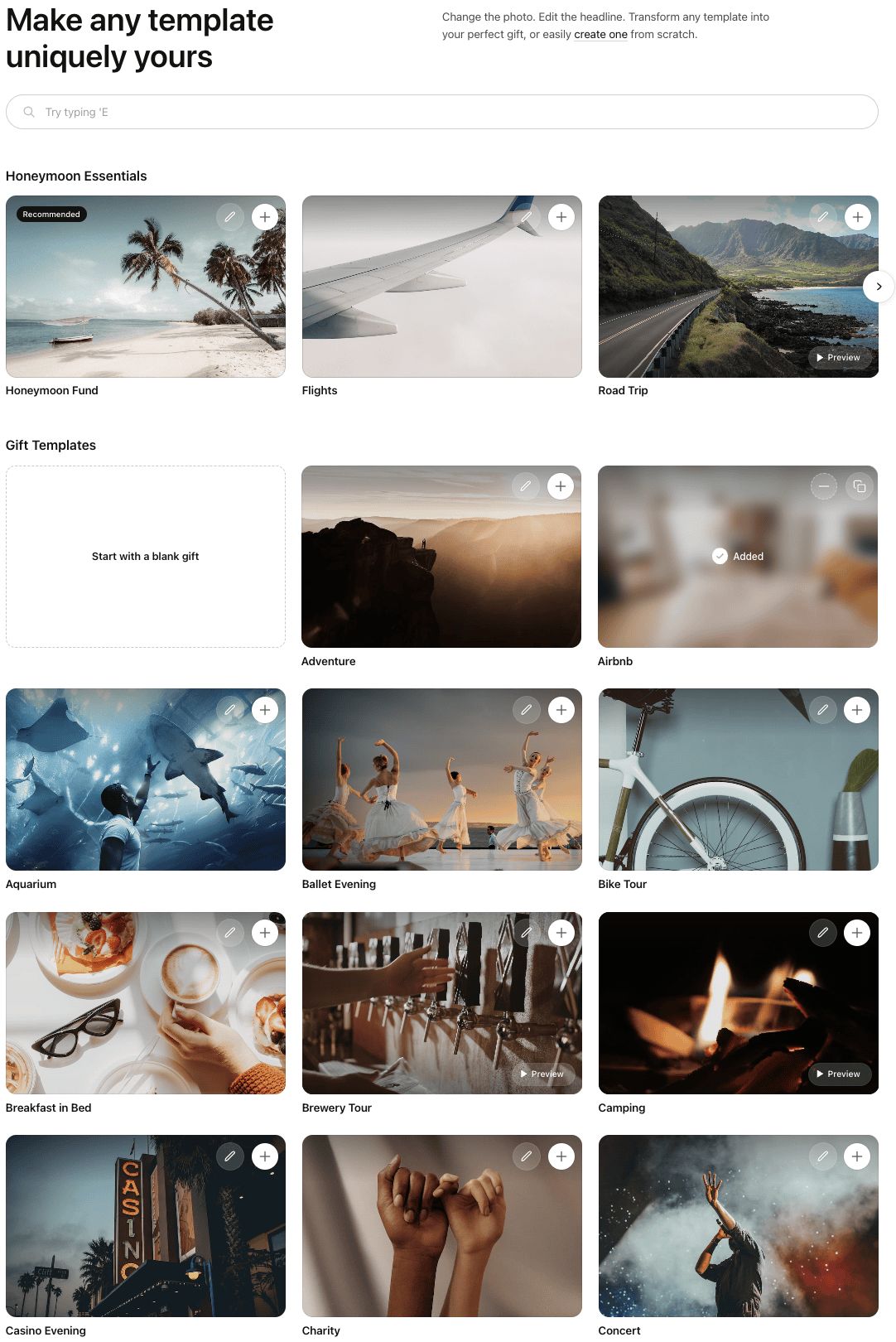 Your guests can securely donate to designated honeymoon gifts using their credit card, Venmo, PayPal, and other payment methods by adding your Hitchd URL to your wedding website or invitations.
Hitchd believes in getting the funds into your hands as fast as possible. You'll either receive your cash instantly for all non-credit card contributions such as Venmo, CashApp, Zelle, or PayPal. Credit card contributions will be deposited into your bank account automatically every 2-7 business days - only the first transfer takes 7 days. This entire process is automatic so you don't need to worry about your funds being held in some process or even worse until your wedding is complete.
Additionally, you can mail actual thank-you cards to your visitors directly through the platform. (They'll love that!)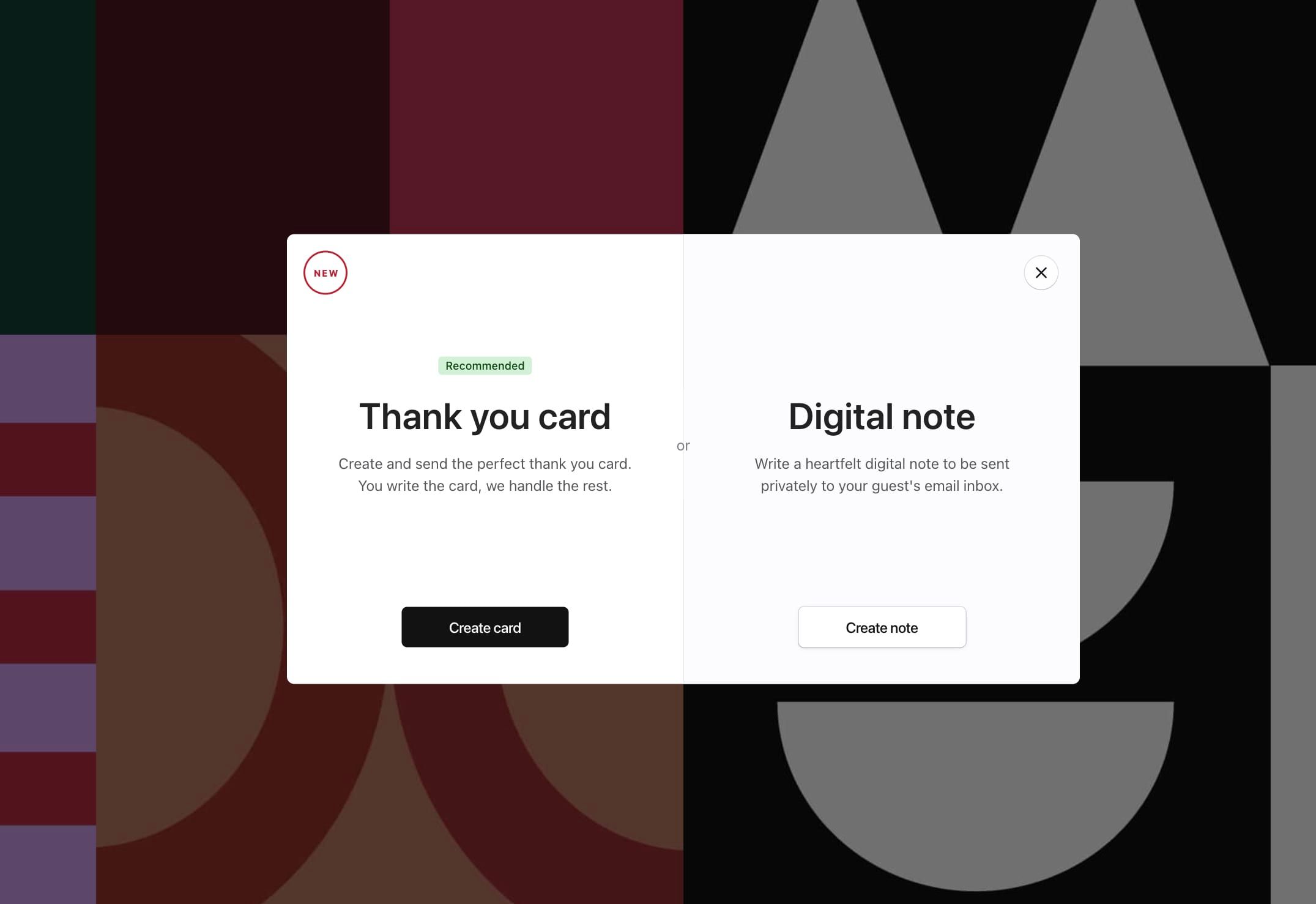 A one-time fee ranges from $99 (for up to 25 contributions) to $199. (for unlimited donations). Additionally, if gift givers choose to pay with a credit card, there is a processing fee of 1.4-2.9% plus $0.30 per transaction, with many fee-free payment options available too.
Hitchd has a Trustpilot score of 4.7/5 you can see what couples are saying in more detail here.
The Knot Honeymoon Fund
The Knot Honeymoon Fund is the perfect way to help offset the cost of your honeymoon. Guests can contribute to your cash fund online, and you can use the money to pay for everything from airfare and hotels to activities and dining while you're on your trip. Plus, setting up a Knot Honeymoon Fund is easy, but it's not free.
Funds for The Knot honeymoon registry are free besides the usual 2.5% credit card processing fee (which the gift-giver pays). While using a cash fund for honeymoon adventures is the most common use, The Knot reports that personal interests and wine club memberships are also growing in popularity. (We will toast that!).
The Knot's registry is not their main focus, and you can't find many reviews on how couples used it exclusively for their honeymoon, so we're not sure what couples think about their service.

pinkblossom331 from reddit mentioned on a reddit thread in r/weddingplanning
"On the receiving end, we've had one person already contribute to ours, and we're a month out from the wedding. A notification popped up in my email when the person sent money, however, it hasn't shown up in my bank account yet.
The Knot says it could take up to three weeks for the money to show in your bank account, which might be something to keep in mind if you need the money by a certain time to pay for honeymoon expenses."
Traveler's Joy
When it comes to honeymoon registries, Traveler's Joy is one of the oldest honeymoon fund registry options out there. Traveler's Joy honeymoon registry sites allow you to add any type of honeymoon fund to your registry, whether it's for airfare, hotel stays, or even unique experiences like scuba diving or cooking classes. In addition, you can easily share your registry website with friends and family via social media or email.
Traveler's Joy Cash fund is, as they say, 100% free to "use." However, if your guests use a credit card, there is a 2.95% fee. This fee can be deducted from their cash gift donation (meaning you get 2.95% less), or you can opt for them to cover the cost. So, it's a little misleading when you're signing up because you think it's free, but your wedding guests are being charged a fee.
All honeymoon registry sites are not equal, so it's important that you do a little research to make sure you choose the best one for you. You can read through Traveler's Joy's trust pilot reviews here. There is a common theme about hidden fees for the 1 and 2-star reviews here.
Zola Honeymoon Fund
Honeymoon registries are a great way to help offset your honeymoon costs and make it more affordable for you and your spouse. One way to do this is to set up a Zola honeymoon registry.
Zola is a wedding registry company that offers a honeymoon fund option. With Zola service, you can set up a fund for your honeymoon and invite guests to contribute. Guests can donate any amount, and all the money goes towards your honeymoon fund.
There are no fees associated with setting up or using a Zola honeymoon fund, but there is a 2.5% credit card transaction fee for each transaction.
However, unlike Hitchd, which has gift templates for experiences, most of Zola's registry is devoted to what you'd expect from a traditional bridal registry, with several brands and categories for various home and outdoor products (some of which are priced higher than stores). Zola does provide certain "experiences" as well as a cash fund.
Wanna know more about the Zola honeymoon registry experience? With 32 user reviews and a 1.5 score, you should check out some user reviews before starting a registry with Zola.
Honeyfund
Honeyfund is another registry option for couples who want to forego traditional wedding gifts. With Honeyfund, you can register for anything from your dream honeymoon to a down payment on a house.
Honeyfund is a free honeymoon registry that allows guests to contribute to your honeymoon or other travel funds. Guests can donate any amount they like, and all contributions are sent directly to your bank account.
There are no limits on how much you can raise with Honeyfund service, and the funds can be used for anything travel-related, from airfare and hotels to activities and excursions. You can even use the funds to pay for your wedding planner or photographer! But they do try to push gift card purchases and show your guests lots of ads which can be frustrating and scary when they are being asked for their credit card details.
Couples can use WePay or PayPal to complete the transaction through Honeyfund; both charge 2.8% + $0.30/transaction fees.
It's always great to read reviews before signing up for a wedding registry. Wanna know more about the Honeyfund registry experience? Check out some user reviews here; Honeyfund scores a 2.9 on Trust Pilot, but it only has 2 user reviews at the moment. You could try searching through reddit r/weddingplanning to see what people are saying to get an idea if it suits your needs.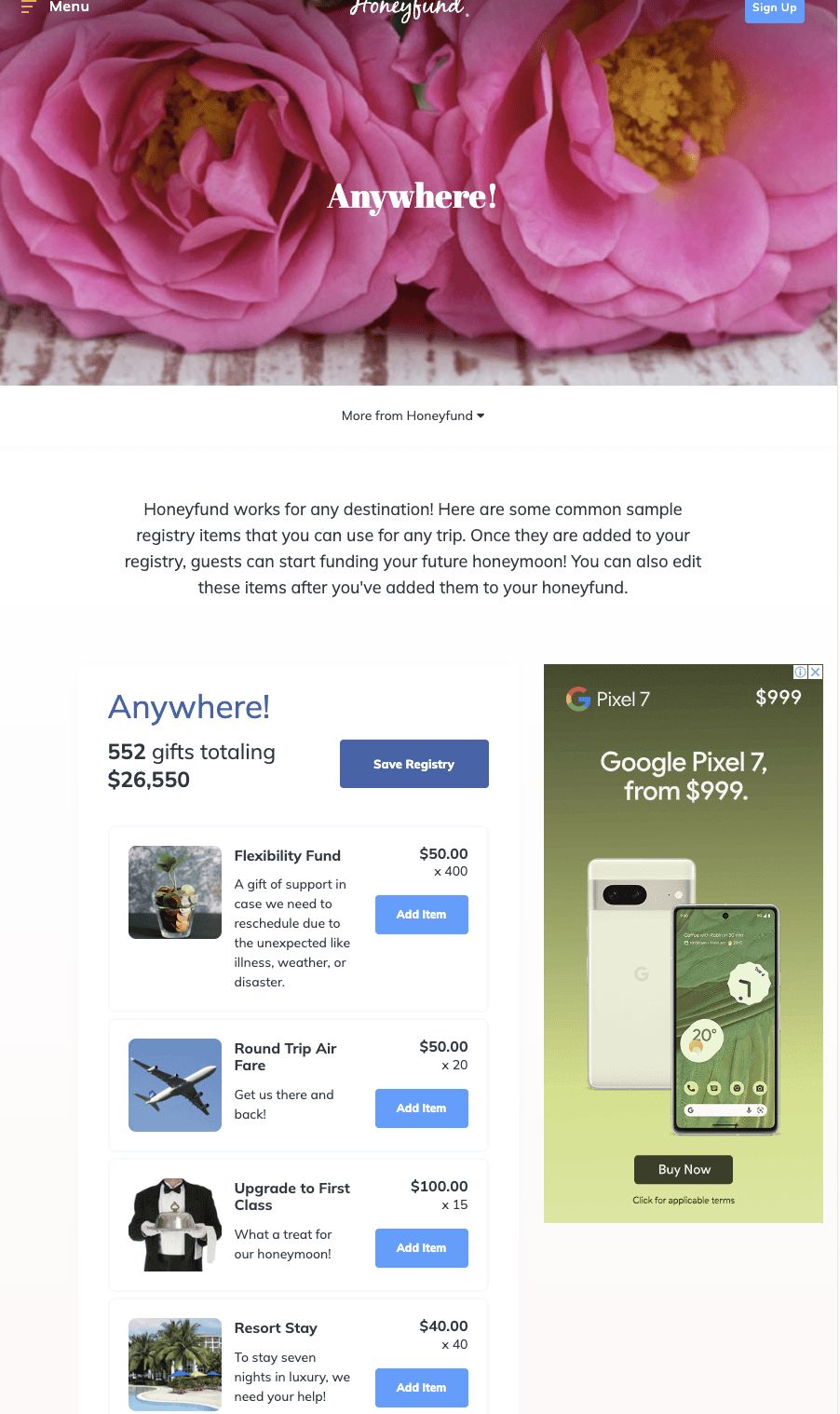 Honeymoon Wishes
Honeymoon Wishes has a different spin on honeymoon registries. In contrast to other registry services, they offer the option to deliver your cash gifts straight to the lodging provider (such as a hotel) instead of directly to your bank account.
With Honeymoon Wishes, guests may still contribute to your wedding register with a physical item without feeling like they are merely sending you money. But it comes at a hefty price. The Honeymoon Wishes registry site charges a 7% service fee and a 2.49% credit card processing fee for your will pay.
SKIP THE BLENDER - Instead, create lifelong memories and experiences with the best honeymoon registry.
When choosing a cash fund or honeymoon registry site, there are a few things to remember. First, make sure that a reputable company offers the registry. Many fly-by-night registry companies will take your money and never deliver on their promises. Second, ensure the registry provides a good selection of travel options. Finally, you should be able to find a registry that offers travel packages to suit any budget.
Cash funds and honeymoon registries are a great idea and alternative to traditional gifts. And while you'll find many claims to be "free," most do have some sort of fee for registry items. So, make sure to always read the fine print before signing up for a honeymoon registry. Some registries have hidden fees or restrictions you may need to be aware of. By carefully reading the terms and conditions, you can avoid any unpleasant surprises down the road.
Ready to start your honeymoon registry? Sign up with Hitchd today and start planning your post-wedding getaway. And once you create it, don't forget to include your registry on your wedding website to encourage your wedding guests to help pay for your dream honeymoon.
Still not sure if you want a cash fund or a honeymoon registry? Take a look at this sample registry.
Fund memories, not things.
The modern registry where guests fund your dream honeymoon. It's simple and beautiful.
Start your registry